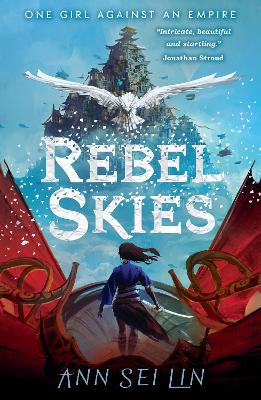 By Author / Illustrator
Ann Sei Lin
Genre
Fantasy
Age range(s)
11+
Publisher
Walker Books Ltd
ISBN
9781406399592
Format
Paperback / softback
Published
05-05-2022
Synopsis
A beautifully written and pacy teen fantasy adventure, set in a world of flying ships, sky cities and powerful paper spirits. Inspired by Asian cultures and exploring themes of empire, slavery and freedom.

Kurara has never known any other life than being a servant on board the Midori, but when her party trick of making paper come to life turns out to be a power treasured across the empire, she joins a skyship and its motley crew to become a Crafter. Taught by the gruff but wise Himura, Kurara learns to hunt shikigami - wild paper spirits who are sought after by the Princess.  But are these creatures just powerful slaves, or are they beings with their own souls? And can a teenage girl be the one to help them find their voice - and change the course of an empire?
"Featuring a vivid mythology, spectacular battles, and an endlessly surprising heroine, Rebel Skies is as intricate, beautiful and startling as one of the paper spirits Kurara brings to life." Jonathan Stroud.  "A magical debut that reads like a Ghibli film, brimming with imagination, action and heart." Natasha Ngan.  "An intricately constructed ode to papercraft and Japanese culture. I fell in love with this world of airships, cumulous whales and floating cities. Pure magic." Lauren James
See also:  Rebel Fire  (Rebel Skies, Book 2)  PLUS  Find out more from author Ann Sei Lin
Reviews
Linda
The author of this debut fantasy novel, Rebel Skies, will immerse you, the reader, into a world of, deception, secrets, trust, friendship, floating cities and dangerous, huge paper spirits called Shikigami that threaten the humans that have created them...
Kurara's home, the Midori, is destroyed by a Shikigami. As she has nowhere else to go, she joins the crew aboard the hunter ship, the Orihime. She holds a secret on her that only the crafter, Himura, knows about. As she begins training with him to manipulate paper with her mind, she has no idea of the battle that is about to begin!
I've truly not read anything like this before, it's amazing. Rebel Skies had me hooked from the beginning. This fantasy story will have most readers of this genre hooked ( it has a His Dark Materials feel about it ) as the plot unfolds, as it's full of action and unexpected twists and turns; especially one dramatic twist that I didn't see coming, half way into the story.
The book is suitable for the 12+ reader. The story would also be great for book clubs and intervention groups and also for those who love to delve into the world of Origami. The characters feel believable and as you get deeper into the plot you will feel for them, and, believe this or not, for some of the more dangerous paper spirits. I thankfully, can now continue this adventure with book 2, Rebel Fire. I can't wait to see how these characters develop and cope in this conflicted and dangerous world.
352 pages / Reviewed by Linda Brown, school librarian
Suggested Reading Age 11+
Jacqueline
In Rebel Skies, Kurara is a servant on a sky city, alongside her best friend, a younger boy called Haru. She cannot remember her earlier life, only this time. The city is part of the empire of Mikoshima, where rebels are trying to take power from the Emperor. All around are the terrifying paper spirits, giant shikigami creatures, running amok in the air. When Kurara's home is destroyed by one of these shikigami, she joins the crew of an airship hunting them. But this is an Empire in turmoil and great danger is coming from all sides.
In a complex story that deals with themes of rebellion and sense of self, this book takes you on a journey across an Empire that is falling to pieces, with magic and extraordinary characters. This is a book so original that I wish I had thought of this idea. It revolves around magic and paper crafting and yet there is nothing flimsy about these creations - many are terrifying.  Kurara herself is inextricably tied into all of this, though she doesn't yet know it, and her back story is at the heart of the plot.
This is high fantasy, brought vividly to life with amazing world building skills. I could see the story unfolding in my mind and it would make a fantastic animation film. Currently, this book is in the running for the Coventry Inspiration book prize, 2023 Branford Boase Award and the Badger Books Award; very well deserved nominations. This book is down for being suitable for 13+, it certainly has some violence in it, but I think a mature Year 6 child would enjoy this. I can't wait to read the sequel.
352 pages / Reviewed by Jacqueline Harris, teacher
Suggested Reading Age 11+
Other titles