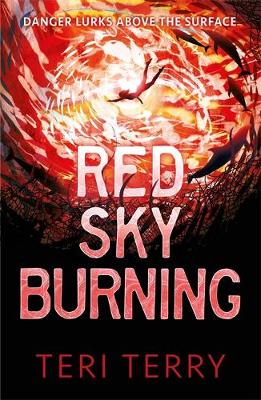 By Author / Illustrator
Teri Terry
Genre
Suspense & Thrillers
Age range(s)
11+
Publisher
Hachette Children's Group
ISBN
9781444955101
Format
Paperback / softback
Published
08-07-2021
Synopsis
Where do you run when there's no one left to trust? The stunning follow up to DARK BLUE RISING, the new thriller trilogy from Teri Terry.

She survived the hurricane and now Tabby is on the run, hoping she can make it to her old friend Jago before her pursuers catch her.  All she has are questions, about the experiments she saw in the basement of her swim school...about who - or what - she is.  
Denzi is also searching for answers after the storm. But each time he connects with a survivor, they disappear.  The environmental activist group The Circle claims responsibility for the hurricane that destroyed Tabby and Denzi's school and caused great damage around the world. Now they threaten further terror if their demands aren't met.
As the political tension bubbles over into violence, Tabby and Denzi search for the truth. There's something connecting them, drawing their paths into one.  Can they put the puzzle pieces together and discover what The Circle wants with them? Sometimes it's better not to know the truth...
Reviews
Linda
Red Sky Burning is the second instalment of The Circle Trilogy from the amazing YA author Teri Terry. Her books are descriptive, pacey, full of drama and intrigue; they never let you down and they always leave the reader wanting more.
Tabby is once again on the run as the one person she thought she could trust, her grandmother, is part of The Circle. She now has two urgent things on her mind; find her friend Jago, and swim in the sea, with which she finds a strong connection. Can she do either of these things before the members of the Circle find her? What do they want her for? Is it because of what she has found out about the Penrose Clinic?
Denzi managed, by chance, to escape the storm that destroyed the summer swim school that he was attending as he had an urgent call from his dad... his mother was in an accident. Was this just a coincidence? He wants to find Tabby, but every lead he gets is a dead end, where is she? Will Tabby and Denzi managed to find each other and put the information that they have both gathered together and work out what the Circle wants with them?
You will have to read this climate change, conspiracy page turner of a book to find out! Red Sky Burning has intrigue, deceit and drama with lots of twists and turns that are suitable for the 12+ reader. This unique story would also be suitable for reading intervention groups/book clubs as it has many discussion points, for example: identity, environmental issues, surveillance/social media issues and trust.
This second book moves this thought provoking series along nicely, it's sinister in places and a complete page turner. Believe me when I say you will not want to put it down! I know I've previously stated this before regarding Teri Terry, but she is a master at her craft and her ease of making the reader question and think about the future is second to none. I'm looking forward to the concluding book of this series, Black Night Falling, where hopefully Tabby will get the answers to all her questions!
448 pages / Ages 12+ / Reviewed by Linda Brown, school librarian
Suggested Reading Age 11+
Other titles