Resurrection (Skulduggery Pleasant, Book 10)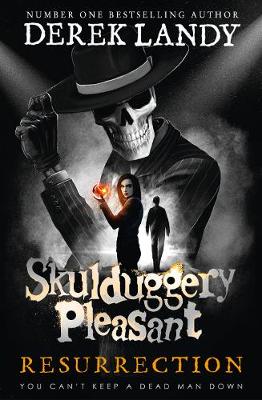 By Author / Illustrator
Derek Landy
Genre
Adventure
Age range(s)
11+
Publisher
HarperCollins Publishers
ISBN
9780008169022
Format
Hardback
Published
01-06-2017
Synopsis
The skeleton detective is coming back to life... again! It's the tenth, triumphant novel in the Skulduggery Pleasant series, and it will rearrange your world.
Skulduggery and Valkyrie are back in the tenth instalment in the bestselling Skulduggery Pleasant series - an incredible and unexpected treat for the legions of fans around the world.
We can't say much but we can say this: Skulduggery and Valkyrie are going to team up with beloved characters from the first 9 books as well as an all-new cast, including new teen co-star Omen Darkly, for an adventure that takes the story to truly global proportions... while answering questions that go right back to the beginning.
And Derek says this: \"I was halfway through Last Stand of Dead Men, I think, when I realised that I had more stories to tell. I told myself that if Skulduggery and Valkyrie survived the series, I would leave the option open of returning to their world. There were still secrets I need to reveal, after all, and there were still horrors they had to face. They survived the first series. But they're really going to wish they hadn't.\"
Reviews
Daniel
Three years after we thought we'd seen that last of them, Skulduggery and Valkyrie have returned for a new series of adventures! A secret order of dissident sorcerers is attempting to resurrect an ancient being to wage war on mortals. Skulduggery Pleasant, skeleton detective and sorcerer, is going to need all the help he can get to stop them. Luckily for him, his protege Valkyrie Cain is back in Ireland - he just needs to convince her to rejoin the fight. But Valkyrie has her own demons to battle. The world of Skulduggery Pleasant feels very real (despite the magic and walking talking skeleton!). There are consequences to decisions and actions that are all too often ignored in many popular books and films of this kind. It is also populated by a diverse and varied cast of characters - there are people from many ethnic and national backgrounds, and with a range of sexualities and gender identities. It feels inclusive without succumbing to tokenism. It's really interesting to see Valkyrie Cain developing as a character over the series. At the start of book 1 she is a 12 year old girl, new to the world of magic and adventure. By book 10, she is a 24 year old woman suffering from trauma and depression due to the death and destruction that her adventures have caused. An interesting creative writing exercise would be to get students to imagine what their favourite characters would be like as grown ups. The Skulduggery Pleasant titles are among the most broadly popular in my library. I can't think of many other books that are regularly devoured by both Year 7 boys and Year 10 girls. However, I'd look for a certain level of maturity in readers before recommending, as the books can be quite violent. This this most recent book deals with some heavy themes, such as depression and PTSD. 432 pages / Ages 12+ / Reviewed by Daniel Katz, school librarian.
Suggested Reading Age 11+
Other titles