Rory Branagan (Detective) (Rory Branagan, Book 1)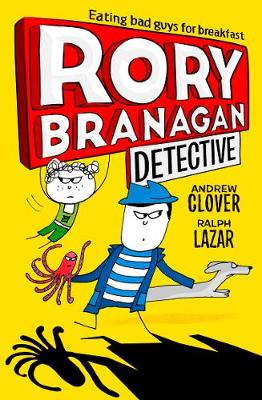 By Author / Illustrator
Andrew Clover, Ralph Lazar
Genre
Mystery & Detective
Age range(s)
7+
Publisher
HarperCollins Publishers
ISBN
9780008265830
Format
Paperback / softback
Published
22-03-2018
Synopsis
Meet RORY BRANAGAN - he eats bad guys for breakfast. Well, not ACTUALLY. But he IS the best detective in town. First in a hilarious illustrated comedy-crime series for kids.
Hello. I am Rory Branagan. I am ACTUALLY a detective.
People always say, 'How do you become a detective?'
And I say, 'Ahhhh... you don't just FIND YOURSELF suddenly sneaking up on baddies, or diving out of the way as they shoot, or hurtling from an open plane towards the ground! You have to WANT it.'
And what made ME want it? I needed to find out what happened to my dad...
There are seven books in the RORY BRANAGAN (DETECTIVE) series and this is the first, in which you meet Rory and his Accomplice, Cassidy, as they investigate the poisoning of Rory's next-door neighbour. Rory's adventures are all highly illustrated so you can see everything he gets up to in glorious black and white. Perfect for readers aged 8 and up.
Reviews
Sam
Rory lives with his mum and older brother, and his best friend is Wilkins, his next-door neighbour's sausage dog! Now while some might think Rory would be lonely, he's not, he thinks his life is amazing. Rory is perfectly happy with the exception of just one thing, one thing that makes him worry at night - no one tells him anything! The one thing that Rory most wants to know is why his Dad disappeared when he was three years old. Rory desperately wants to find out what happened to his Dad, and why he just disappeared and it is this determination, combined with his keen observational skills and the unexpected arrival of Cassidy Corrigan, to act as his accomplice, that sees the start of Detective Branagan's first case. While in search of clues to the whereabouts of Rory's Dad, he and Cassidy stumble upon a number of strange things, such as, why is Auntie Jo's room weirdly empty and who owns the mysterious silver car that Rory sees Corner Boy's Dad get out of? It's odd things like this that lead Rory and Cassidy to solving a crime they could never have imagined. Rory Branagan (Detective) is a fast paced, easy read for any young or reluctant reader who might still lack the reading stamina required of most chapter books. Written in a similar laugh out loud style to the Wimpy Kid series, this book has clear, slightly larger than normal print, with only a few sentences on each page. The sketch style illustrations on every page ensure that even the most reluctant of readers have something to catch their eye. This truly is an all action story of adventure that will keep most newly independent readers on the edge of their seats, while more importantly keen to read on. This is the first book in a series of four and I am sure that this may just be the book that so many young readers, 8+ are looking for. Definitely not a colourful picture book but certainly not anywhere near as daunting as some black and white, all text, chapter books aimed at readers of this age. 352 pages / Ages 8+ / Reviewed by Sam Phillips, teacher.
Suggested Reading Age 7+
Other titles