S.T.E.A.L.T.H.: Ice Breaker: Book 2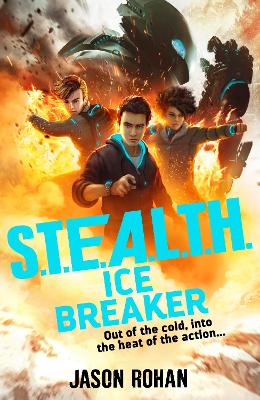 By Author / Illustrator
Jason Rohan
Genre
Adventure
Age range(s)
9+
Publisher
Nosy Crow Ltd
ISBN
9781839943409
Format
Paperback / softback
Published
06-10-2022
Synopsis
Full of thrilling high-octane action, this is the second in an explosive new action-adventure middle grade series. Perfect for fans of Alex Rider, CHERUB and Mission: Impossible.
When an armoured train with a top secret cargo is hijacked by terrorists in the Austrian Alps, and an avalanche cuts off all help, British Intelligence is forced to call on its youngest recruits to mount a dangerous rescue mission with the clock ticking down. Can Arun, Donna and Sam save the world and get back to school before anyone notices they've missed maths ... again?
Arun, Donna and Sam are ordinary school kids with an extraordinary secret. They are S.T.E.A.L.T.H., a crack team of agents in charge of the most cutting-edge piece of tech the world doesn't know exists: MANDROID. Always flying under the radar, they solve crimes, prevent disasters and rescue the innocent - and they STILL have to get their homework in on time! See also STEALTH: Access Denied (book 1)
Author Jason Rohan tells us more!
Reviews
Beverley
In STEALTH: Access Denied, the first book in this exciting adventure series, we met Donna, Arun and Sam, schoolchildren who have been recruited by British Intelligence to become the S.T.E.A.L.T.H team. In their latest escapade, STEALTH: Ice Breaker, a train carrying a top-secret cargo has been hijacked in the Austrian Alps and two British agents on board need to be rescued. The children are taken out of school and, with the help of their super machine MANDROID, are tasked with bringing the agents safely home. However, they are told that they must remain 'invisible' throughout the mission - no one must see them or take any photographs.
Jason Rohan has written another breathtakingly fast-paced novel. Using the device of telling the story in real time, the reader is whisked from one thrilling scenario to another. With a cliffhanger on every page, it is impossible to stop reading as the action twists and turns. As in the previous book, timings take the place of chapter headings; the whole book takes place over a period of only eight hours, but the author packs every page with drama and tension.
The characters are well drawn, Donna is still as streetwise and smart as ever, Arun can solve seemingly impossible problems, and Sam can think creatively and quickly when in a tight spot. Although they sometimes disagree, they always work as a team in order to reach their goal. When they are faced with the dilemma of saving innocent people trapped in an avalanche, potentially blowing their cover in the process, they decide to do the right thing, and this becomes one of the most exciting sections of the book. I also enjoyed the development of the characters of Sunny and Moss, the two British agents who are trapped on the train.  The wonderful MANDROID is always central to the action with its shape-shifting abilities coming to the rescue at every turn! The author concludes the story most satisfactorily, and I am sure that it won't be too long before Donna, Arun and Sam, along with Sunny and Moss, are given another important mission.
This book will be a welcome addition to any bookshelf or school library, I shall be recommending it to my colleagues wholeheartedly. And maybe in the next book we will find out what S.T.E.A.L.T.H actually does stand for!
256 pages / Reviewed by Beverley Somerset, school librarian
Suggested Reading Age 9+
Idris

- Age 14
The second instalment of Jason Rohan's series, S.T.E.A.L.T.H, Icebreaker is the long-awaited book following Access Denied. The series is an excellent response to books like Alex Rider, pitting mere teenagers against almost impossible odds. However, these particular teens have a bit of an advantage - a revolutionary giant robot named Mandroid. Jason Rohan has crafted a thrilling novel with several gripping twists that are sure to excite the reader, whether that reader be a year 13, or a year 7. I look forward to the next book of the series, and strongly recommend this to all ages, especially those who enjoy books such as Magnus Chase, Alex Rider and Percy Jackson
Suggested Reading Age 11+
Other titles