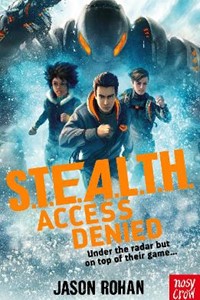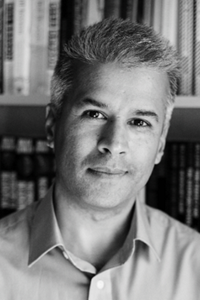 About Author
Jason Rohan's new book S.T.E.A.L.T.H.: Access Denied (Nosy Crow Books) is the first in an action-packed, gadget-filled series.
When he was 16, Jason Rohan talked his way into an internship at Marvel Comics in New York, where he sold his first story; later he taught English in Japan for five years. He currently works as a mobile telecoms project engineer, building the networks of the future.
Like his characters Arun, Donna and Sam, Jason lives in west London with his wife and five children. In S.T.E.A.L.T.H., he celebrates the city where he was born and raised, and its remarkable ability to absorb countless waves of newcomers and to make them its own
Interview
S.T.E.A.L.T.H.: Access Denied (Nosy Crow Books)
April 2022
In this action-packed adventure - the first in a new series - three children battle to save a kidnapped parent and in the course of the action discover a weapon that could change the world - in a very, very bad way...
Read a chapter from S.T.E.A.L.T.H.: Access Denied
Enter our Competition to win a copy!
In this video, author Jason Rohan talks gadgets, gaming and cutting-edge science - and reads from S.T.E.A.L.T.H.: Access Denied!
Q&A with Jason Rohan:
1. Can you tell us a bit about your career as an author to date? Do you also have another career?
Some of your readers may remember me from the Kuromori Chronicles which ReadingZone kindly featured back in 2014. That was a trilogy set in modern Japan with lots of traditional monsters which aren't usually seen in kids' books, so the books are perfect for fans of anime and manga.
My full-time regular job is a Telecoms Project Manager, which means I help build 5G networks and make what was once science-fiction into everyday reality.

2. What is your new novel, S.T.E.A.L.T.H.: Access Denied, about? ...And what does S.T.E.A.L.T.H. stand for?
S.T.E.A.L.T.H.: Access Denied starts with the simple question of, "What would you do if your parent was kidnapped?" One of the joys of being a writer is you get to ask those sorts of crazy questions and follow the answer to see where it leads. Of course, you have to answer other questions such as Why, How and - best of all - What happens next?
Suffice to say, the trail leads to a new and potentially world-changing weapon. With car chases, explosions and cutting-edge tech, it's not your typical kids' book. If I tell you what S.T.E.A.L.T.H. stands for, I'll have to kill you in order to keep it a secret! (Not really, but that's a reveal for later in the series.)

3. What inspired you to get into the world of high-tech gadgets?
This story started with a problem, namely that I wanted it to go in a certain direction but wasn't able to make it work for various reasons, until I realised that high-tech was a way to do it. For example, let's say I was going to write about a singing contest, but my main character couldn't sing. Big problem, right? What if I then came up with the idea of a throat implant which would fix the issue and the character could belt out notes?
It was a bit like that. The gadgetry became a vehicle through which to make the story work. It was always important for the characters to drive the story and for the tech to complement them, not the other way around. And, let's face it, gadgets are really cool and there's some crazy stuff out there in the real world.

4. Where do you go to research high tech?
I'm an engineer by trade so I have come across a lot of very interesting real-life tech through work, as well as through reading stuff like Science Daily and New Scientist. I love popular science and there are so many exciting and profound areas of research happening all the time, such as cloaking devices, fusion energy and cybernetics. It's easy to forget how miraculous our daily technology is.

5. Without giving too much away, what inspired M.A.N.D.R.O.I.D., the gadget in the book that everyone wants?
I first discovered anime in the mid-1980s and was struck by the application of sophisticated storylines and film techniques to what was normally derided as kids' stuff, in the same way that comics used to be looked down upon, before the advent of graphic novels. I wanted to bring the flavour of that to the book, along with the need to have three ordinary kids handle a fleet of advanced vehicles. M.A.N.D.R.O.I.D. was the solution.

6. There's a strong gaming element to the novel - was that deliberate, and are you a gamer? Any favourites?
Funnily enough, it's the opposite which happened! I used to play Football Manager, the PC strategy game where you get to manage a team, and I was happy taking my squad through the seasons. I don't have a gaming console and I'm not a fan of shoot-'em-ups, so Football Manager was fine for me, until my wife clocked how many hours I was spending with nothing to show for it. (My virtual Champions' League trophies didn't count.) So, she pulled the plug on me and told me to find a more productive hobby, which is why I started writing again. If I had been allowed to continue gaming, there wouldn't be any books!

7. Can you tell us how the three children at the heart of the novel - Sam, Arun and Donna - developed? 
The three children came together as characters in a number of ways. I knew I needed a team because there is a fleet of vehicles involved and, from the source material, you need a pilot, a navigator and an engineer.
The two boys, Arun and Sam, come from those strong friendships that boys tend to form. As geeky outcasts with similar interests, it made sense they would pair up, but you need contrast for sparks to fly and I came up with Donna as pretty much their polar opposite. It's only in hindsight that I realise that Donna is the true protagonist and that it's her story, even though it doesn't seem that way.
The key is how well they all complement each other's strengths and weaknesses - that's what makes them such a formidable and unique team. To sum them up, Sam is the technical whiz, Arun is the steadfast leader and Donna has all the essential mad skills. Or, alternatively, Sam is the brain, Arun the heart and Donna the soul.

8. As well as the action, you touch on issues that each of the children face at home or in terms of their family backgrounds. Why did you want to include these elements in the novel?
I had a difficult childhood at times and took solace in reading, but all the stories I read had happy, well-adjusted child characters. Not only could I not relate to them, they also made me feel more out-of-place because that seemed to be the norm.
I've often felt like a misfit so writing about three misfits who find their place with each other really appealed to me and I wanted the kids to have to earn their successes. Also, I didn't want to shy away from the fact that being a child isn't always easy and life can be hard, especially in these uncertain times. We all get knocked down from time to time, the trick is to keep getting back up again.

9. What are your plans for the rest of the series? What are you writing currently?
Access Denied ends with the kids being recruited to work on top secret missions, so future instalments will see them learning on the job, growing into their roles and discovering more about themselves, M.A.N.D.R.O.I.D. and the bigger picture. I'm really excited to see how it all develops. I have an end point in mind but don't plan to wrap things up just yet.
I do have another project on the go, which is set in 2050 and deals with a technological response to the climate crisis.

10. Where and when do you prefer to write?
I'd prefer to write on a tropical beach with a cool breeze and a rum punch but that isn't happening! I have to make do with evenings at my workstation, after the day job has wound down. I've learned to write in concentrated bursts, using the day to plan ahead and the night to write it down. That's one reason I use short chapters.

11. How do you spend your downtime?
Downtime? Bwah-hah-hah-hah. Sorry. On the rare occasions I'm not running Dad's Taxi Service, or fixing things around the house, I like to sneak out to the cinema. I'm a huge film buff and a sucker for the big screen experience. I've seen all of the Marvel movies multiple times, which is probably not a surprise.
Author's Titles