S.T.E.A.L.T.H.: Access Denied: Book 1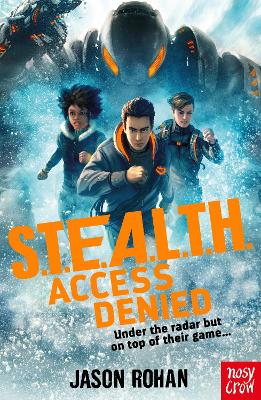 By Author / Illustrator
Jason Rohan, Two Dots
Genre
Adventure
Age range(s)
9+
Publisher
Nosy Crow Ltd
ISBN
9781839943386
Format
Paperback / softback
Published
07-04-2022
Synopsis
They're in a race to save his dad... and the world.  When his dad disappears, Arun Lal is amazed to discover that he was secretly working on a classified project and has been kidnapped by people intent on stealing it.  Along with his geeky best friend Sam and tough-talking Donna, Arun is plunged into a race to rescue his father and find his creation before the thieves can turn it into a destructive global weapon... Full of thrilling high-octane car chases and more, this is the first in an explosive new action-adventure middle grade series. Perfect for readers aged 9+ and fans of Alex Rider, CHERUB and Mission: Impossible. 
Arun, Donna and Sam are ordinary school kids with an extraordinary secret. They are S.T.E.A.L.T.H., a crack team of agents in charge of the most cutting-edge piece of tech the world doesn't know exists: MANDROID. Always flying under the radar, they solve crimes, prevent disasters and rescue the innocent - and they STILL have to get their homework in on time!
Find out more! Video and Q&A with Jason Reynolds
Reviews
Lennox

- Age 12
I recently read S.T.E.A.L.T.H.: Access Denied and I really enjoyed it! It is an engaging book that you won't want to put down. The book has key and challenging vocabulary needed to add depth to what is going on, but it is still a fun read. The book will keep you occupied, with nearly 300 pages of high-adrenaline action scenes. The whole novel has different, varying styles and levels of tension. The characters are well-written and different from each other which makes them interesting and believable. After reading this first book, I can't wait to read the whole series!
Suggested Reading Age 11+
Aahil

- Age 12
This is a wonderful book with an intriguing plot. With this book, I found myself speechless (for the first time ever!) One of my favourite things about this book is the unbelievable things that happen - for example, who manages to sneak out of school?! No one I know! But the characters are still relatable which is a difficult thing to accomplish. Fans of adventure books like Alex Rider and Young Bond will love it!
Suggested Reading Age 11+
Beverley
When the police arrive at Arun Lal's house one morning, he and his friends, Sam and Donna, are plunged into the adventure of a lifetime. Arun's dad, Krishan, has been kidnapped, and the three friends are determined to find out why and to rescue him. They discover that Krishan is involved in the development of the MANDROID prototype, a fleet of vehicles designed to deliver aid to countries experiencing disasters. The project has been hijacked by people who want to use it to deliver weapons instead of aid, and it is imperative that they are stopped before millions of lives are lost.
This is a very fast-paced, exciting novel, packed with action and danger. The three main characters appear to be merely children, but they have skills and expertise beyond their years. Sam is a computer genius, Arun is brilliant at planning and Donna is brave and streetwise. Together, they make a formidable team.  Donna is particularly interesting. We learn that she has not had an easy life, and has had to grow up without much parental support. She and Sam have a love-hate relationship at the start of the book, but the adversity they face makes them realise that they work well together.
The author plunges the reader straight into the action, and the pace never lets up throughout the book. The story is told in real time, with timings taking the place of chapter headings. This clever device really makes this a page-turner. The story alternates, being told from several points of view – the children, the kidnapped father, the police and the villains. In the right hands, this would make a brilliant movie!
There is some violence, but nothing too graphic, and it all adds to the suspense and flow of the story. Along the way we encounter high speed car chases, amazing technology, aerial dogfights, and double agents, and yet the story remains believable. It concludes satisfactorily, leaving the reader wanting more. The children are given the team name S.T.E.A.L.T.H., but we are not told what that stands for – hopefully all will be made clear in the next book!
This is an excellent start to what promises to be an exciting series and I can see it being very popular with both male and female readers. I look forward to the next instalment in the adventures of Arun, Donna and Sam.
304 pages / Ages 10+ / Reviewed by Beverley Somerset, school librarian
Suggested Reading Age 11+
Other titles