Savage Her Reply - from the award-winning author of Tangleweed and Brine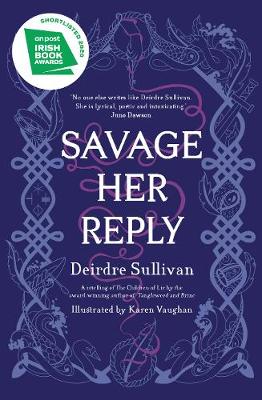 By Author / Illustrator
Deirdre Sullivan, Karen Vaughan
Genre
Fairy Tales & Folk Tales
Age range(s)
14+
Publisher
Little Island
ISBN
9781912417643
Format
Hardback
Published
01-10-2020
Synopsis
A dark, feminist retelling of The Children of Lir told in Sullivan's hypnotic prose. 'No-one else writes like Deirdre Sullivan.  She is lyrical, poetic and thoroughly intoxicating.' Juno Dawson, author of Wonderland  'Unsettling, haunting, and darkly lyrical, Savage Her Reply is a beautiful thing.' Louise O'Neill, author of After The Silence.
A retelling of the favourite Irish fairytale The Children of Lir.  Aife marries Lir, a chieftain with four children by his previous wife. Jealous of his affection for his children, the witch Aife turns them into swans for 900 years.  Retold through the voice of Aife, Savage Her Reply is unsettling and dark, feminist and fierce, yet nuanced in its exploration of the guilt of a complex character.  A dark & witchy feminist retelling from the author of Tangleweed and Brine
Reviews
Catherine
First off let me confess something...in a rare moment of cleaning - I usually just sweep the room with a glance - I've tidied away my notes on this read. I say 'tidied' but I think my enthusiasm with the task may have led to a total recycling of them as they're nowhere to be found since that event.
However, while this might appear disastrous what it has done is a) prompt me to use a notebook and b) more importantly (and more relevant) recall how Savage Her Reply made me feel. Even a couple of months on from turning the last page and putting down the book I recall the haunting voice of the narrator, Aife. Such sadness, such reckoning.
I'll readily admit I didn't know what to expect from the book, but from the outset (my copy is a fabulous hardback, beautifully and simply illustrated by Karen Vaughan), from the layout, the poetry laid out in shapes mimicking the earliest Irish alphabet, I knew I was entering more than a fairytale; I was to be fully immersed in Irish myth and folklore as Deirdre Sullivan took something old and through judicious weaving created something new, lyrical and enchanting. A truly rich tale. The Children of Lir is an ancient Irish tale of four children cursed by their step mother who is so unhinged by jealousy.
After her spell, cast with fury, she gets little mention; the tale focuses on the love of the father, the fate of the children, the bond of family and ultimate salvation and release through Christianity. Some retellings don't even bestow a name upon the step mother. Savage Her Reply is the story of Aife; step mother, aunt, wife, sister. With Aife narrating, we see the tale unfold; the loss and love, the desire to please, the desire to be loved, the driving hunger for more, the jealousy and bitterness, the abuse, the revenge. Her voice is old, full of regret, resigned. It whispers, it haunts, it rises and falls. Interspersed with the tale of Children of Lir and the wonderfully poetic chapter headings, Savage Her Reply is pitch perfect. 228 pages / Ages 14+ / Reviewed by Catherine Purcell, school librarian
Suggested Reading Age 11+