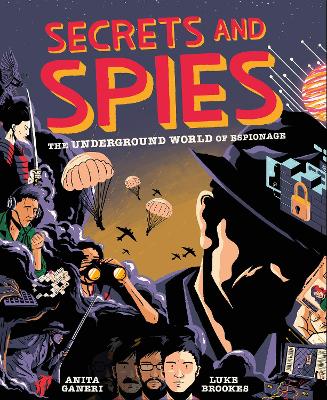 By Author / Illustrator
Anita Ganeri, Luke Brookes
Genre
Mystery & Detective
Age range(s)
7+
Publisher
Little Tiger Press Group
ISBN
9781838913618
Format
Hardback
Published
02-09-2021
Synopsis
Prepare to go undercover and enter a world of secret missions, covert operations and classified information. Explore the history of espionage from ancient secret agents to modern-day surveillance, and read about the lives of infamous spies and their missions. Learn the language of spies and how to read codes and ciphers, then ask yourself the all-important question - could you be a spy? An exploration of a hugely popular subject by the author of the best-selling 'Horrible Geography' series.
Reviews
Kelly
Prepare to enter the underworld of covert operations, secret missions and classified information! Secrets and Spies is a non-fiction book presented as a graphic novel giving it that extra element of mystery. Secrets and Spies immerses the reader in a historical journey through a timeline of spies and espionage.
From ancient civilisations, through World Wars and the James Bond era's, the reader is sure to be captivated by the graphic style double-page spreads. Each section, shown through varying genres, including newspaper articles, comic book strips and fact files, takes the reader on first-hand experience of double-crossing, animal and human intelligence officers, spy gadgets and deciphering codes and cyphers. Chunking the information allows the reader to dip in and out of the book without feeling overwhelmed.
Secrets and Spies is a great teaching tool to support history teaching, both within and outside the classroom. There is a glossary of spy speech, towards the end of the book so if any children start telling you about a dead-drop, watch out! A great addition to Letters from the Lighthouse by Emma Carroll and Dead-Man's Pass by authors M.G. Leonard and Sam Sedgman.
72 pages / Reviewed by Kelly Buxton
Suggested Reading Age 7+
Other titles