Shifty McGifty and Slippery Sam: The Aliens Are Coming!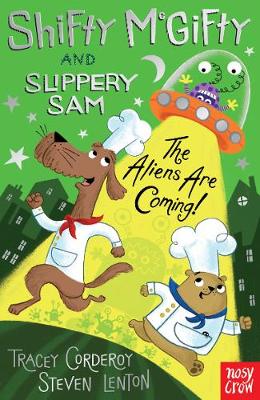 By Author / Illustrator
Tracey Corderoy, Steven Lenton
Genre
Adventure
Age range(s)
5+
Publisher
Nosy Crow Ltd
ISBN
9781788001526
Format
Paperback / softback
Published
07-03-2019
Synopsis
Three more slapstick early readers from our favourite doggy detectives, all set in the summer sun. And things are HOTTING UP! Someone is CHEATING in the SANDCASTLE competition! There's something FISHY about the new CAFE! But it's the ALIEN INVASION that REALLY makes Shifty and Sam lose their COOL! Anyone for an ICED bun?! Brilliant stories hilariously told by Tracey Corderoy and beautifully brought to life by Steven Lenton's illustrations in deliclous two-colour.Have you read Shifty and Sam's other fiction adventures?The Spooky SchoolUp, Up and Away!Jingle Bells!
Reviews
Lauren
Shifty McGifty and Slippery Sam are back in The Aliens are Coming. Another three story series from Tracey Corderoy and Steven Lenton about two baker dogs who like to solve mysteries and bake cakes! The three stories encompass friendship, fun and a little mystery and are what makes reading for children so fun. Each story has a dilemma or mystery that Shifty and Sam need to solve, with a little help of their animal friends can they save the day? In the first story there is an Alien invasion in town, which doesn't quite add up. In 'Ice Cream Time' there is a cheating red panda on the loose, but only Sam and Shifty can expose them for what they really are. Finally, Miss Peachy-Pie's pamper cafe threatens to close down Shifty and Sam's bakery, but is it all that it seems?! This book is perfect for children just starting their reading journey with small chapter books. The language used is brilliant and allows children to access the stories easily. I like that in each story there is the theme of a life lesson and an act of friendship which runs throughout. The two friends also rely on help from others to solve problems which is important to show children. 124 pages / Ages 7+ / Reviewed by Lauren Maidman, teacher
Suggested Reading Age 5+
Other titles