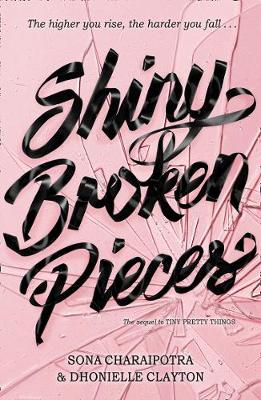 By Author / Illustrator
Dhonielle Clayton, Sona Charaipotra
Genre
Bullying
Age range(s)
14+
Publisher
HarperCollins Publishers
ISBN
9780008392819
Format
Paperback / softback
Published
06-08-2020
Synopsis
Black Swan meets Pretty Little Liars in this drama-packed sequel to Tiny Pretty Things set in an elite New York ballet school.  Soon to be a Netflix TV show...
Featuring a diverse case of characters, plenty of gossip, lies and scandal, Shiny Broken Pieces continues with the soap-style drama readers loved in Tiny Pretty Things.  June, Bette and Gigi have given their all to dance at New York's most elite ballet school. Now they are competing one final time for a spot at the prestigious American Ballet Company. With the stakes higher than ever, these girls have everything to lose... and no one is playing nice...
Reviews
Linda
The drama, the competitiveness, the nasty remarks and actions in the ballet world ( please remember it's all fantasy!) continue into this wonderful, well written sequel, Shiny Broken Pieces. The stakes are higher than ever, they have so much more to lose and as you delve into the story you will realise that no one is playing nice...
Summer has passed since Tiny Pretty Things ended and we pick up where the next school year is beginning at the prestigious American Ballet Conservatory. After the way the first book ended, our characters are in very different places and the school itself is undergoing changes as well. You'll have to read to get all the details - just know the faculty is determined to keep what happened last year from happening again.
This term the girls are in level 8, the most important year for the dancers. They all want a place in the end of term performance and have been practicing hard, the company however throws them into confusion as it's not the usual Nutcracker performance but Swan Lake. Gigi, isn't as strong as she was before the accident, so has more to prove, Bette is trying to clear her name and get back into the academy to get a chance to dance and poor June just wants to do what her heart desires... dance and be noticed by her father. Will their dreams be fulfilled?
This high drama book is split into two acts, opens with a chapter from Cassie giving the reader insight as to how Bette deceived her. Will she want revenge now that she is back at the academy or will she make alliances to help bring Bette down? The story then once again alternates between the perspectives of Gigi, Bette, and June. How did these girls get so mixed up? How will they cope with the intense pressure that they are put through to be perfect from their teachers and themselves! Then alongside this cope with the bullying that plays with their heads constantly through each day!
A little warning here... there are many scenes of real life issues that include; drug abuse, racism, bullying, eating disorders. Perhaps this book should come with a trigger warning at the beginning or some advise contacts at the end. ( this is why I have given it a 4 star instead of 5).
With all the above in mind, the story is only suitable for 14+ readers, confident and non confident as the themes within its pages will keep even the most reluctant reader engaged. This also lends for this book to be great for book clubs as there are many avenues to explore. Fingers crossed that there will be another instalment to this series as I would like to see how the girls progress.
384 pages / Reviewed by Linda Brown, school librarian
Suggested Reading Age 14+
Other titles