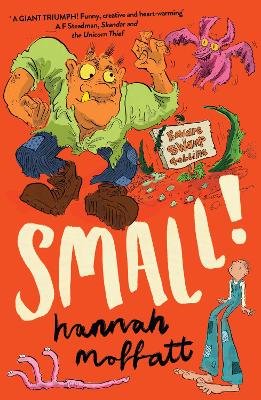 By Author / Illustrator
Hannah Moffatt
Genre
Funny Stories
Age range(s)
7+
Publisher
Everything with Words
ISBN
9781911427278
Format
Paperback / softback
Published
16-06-2022
Synopsis
Harvey is a small boy in a giant world. On stilts! When Harvey accidentally sets fire to his headteacher's trousers, Mum decides it's time for a BIG change and packs him off to Madame Bogbrush's School for Gifted Giants.But Harvey's not a giant. He's a boy on stilts. And if his classmates find out, they'll stomp him into a sandwich!
'A Giant triumph! Funny, creative and heart-warming. I adored everything from the hilarious giant-school timetables to the swampfish and bogweed sandwiches. And who wouldn't want a best friend like Walloping Toenail?' A. F. STEADMAN, Skandar and the Unicorn Thief.  'Vast in humour and heart. A giant of a book' Zillah Bethell, The Shark Caller.
Reviews
Louisa
Small! has been hoping for a new pair of football boots on his tenth birthday. Instead his mum gives him a pair of stilts, sludge brown dungarees and a green velvet top hat. There's barely time for poor bemused Harvey to ask questions (or learn to walk on stilts) before he's packed off to Madame Bogbrush's Academy for Gifted Giants in the middle of the Stinking Sinking Swamp.
The timetable is mostly filled with stomping, clomping, bashing and clobbering and it sounds fun until Harvey finds out that they are practising bashing Smalls (what the giants call humans like him). His disguise (stilts and dungarees, of course) just about prevents him from being stomped into a sandwich, when a strange prediction suggests that he's not the only one in danger.  Suddenly, Harvey is determined to do what he can to protect his giant classmates and his new best friend, Walloping Toenail.
The development of this unlikely friendship gives the story a warm heart while the setting provides masses of opportunities for riotous fun and slapstick humour of the sort that's bound to appeal to readers aged 7-9 years.  
The expressive line drawn illustrations, by Rory Walker channelling Quentin Blake, were a highlight for me. They perfectly capture the grotesqueness and there's just enough detail to support the imagination while still allowing the reader plenty of scope to conjure their own images.  I especially loved the expressions on Harvey's face at different points of the story.
I'm often asked for 'funny books'. This is a perfect answer to those requests. I am sure that it will appeal to fans of the How to Train Your Dragon series and I'm excited to add it to the library to tempt readers making the transition to reading longer stories.
224 Pages / Reviewed by Louisa, teacher
Suggested Reading Age 7+
Other titles