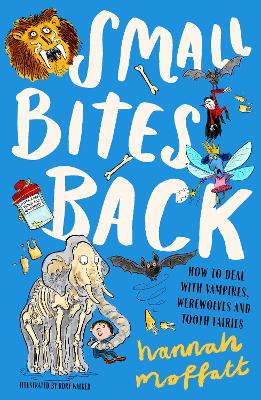 By Author / Illustrator
Hannah Moffatt
Genre
Funny Stories
Age range(s)
7+
Publisher
Everything with Words
ISBN
9781911427346
Format
Paperback / softback
Published
11-05-2023
Synopsis
In Small! Harvey went to a school for giants - but now we follow Harvey and his friend, Walloping Toenail, into the Vampire mountains as they try to work out what made the Never-Ending Contracts never-ending and tied Norma Enormous and the Skelephant to the Unspeakable Circus. Something's bitten the contracts. Could it be something with never-ending venom? As the new Chosen One, Harvey thinks it's his job to find out.
Viscount Bloodsucker, head of the school for vampire dentists (polish up your fangs!), promises to help. But Harvey will have to move fast, because the Unspeakable Circus is on his tail, and Mistress Ring has a great idea for a new act - feeding a Small to the zombie lions!
Reviews
Louisa
In Small Bites Back, Ten-year-old Harvey Small and his giant best friend, Walloping Toenail, return for another hilariously rambunctious adventure - to save their friends from the Unspeakable Circus. This time, they have to venture further through the Stinking Sinking Swamp and into the Vampire Mountains to work out what makes the Never-Ending Contracts never-ending.
Something has bitten the contracts - could that be the clue? Viscount Bloodsucker, head of the school for vampire dentists and tooth expert, surely must know - if only he would stop worrying about his hair dye and polishing his fangs for the school photo (he's also the vainest vampire about town)! Meanwhile Clot, the hopeless vampire, does her best to pitch in and help but time is running out. Can the three ill-assorted friends solve the mystery before their mission is sabotaged by sinister tooth fairies or Harvey is eaten by zombie lions? And if they don't, what will happen to Norma Enormous, Luna the Werewolf and Twinkle the Skelephant?
While Small Bites Back is a sequel to Small, it reads just as well as a standalone. To be honest, I prefer it to its predecessor; the plot is tighter and it gets off to a snappier start. Packed with comic characters, fizzing with dashes of inventive humour, this will amuse all those many children who like books that make them laugh (and that aren't too long). There's a proper story, too, that makes sense in a crazy, quirky kind of way. It adds narrative pace and illustrates a fine theme: we all need each other and problems need to be solved together.
242 pages / Reviewed by Louisa Farrow, teacher
Suggested Reading Age 7+
Other titles