Sticky Pines: The Bigwoof Conspiracy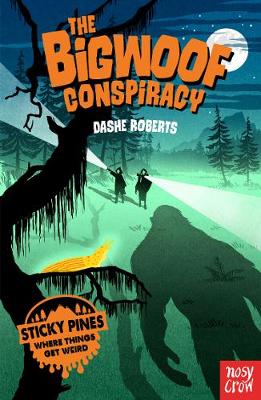 By Author / Illustrator
Dashe Roberts
Genre
Science Fiction
Age range(s)
9+
Publisher
Nosy Crow Ltd
ISBN
9781788006866
Format
Paperback / softback
Published
06-02-2020
Synopsis
When twelve-year-old, UFO-obsessed, Lucy Sladan sneaks out in the middle of a thunderstorm to investigate the unexplained disappearances in her hometown of Sticky Pines, she finds more than she bargained for: a huge hairy creature, a thirteen-year-old stranger named Milo Fisher and a deep-rooted secret. Together, Lucy and Milo become entwined in a mystery that threatens to engulf the whole town of Sticky Pines and its weird and wonderful residents.
Sticky Pines: The Bigwoof Conspiracy is the debut novel for children by the talented Dashe Roberts.  "UFO-obsessed Lucy sneaks out in a thunderstorm to investigate unexplained disappearances, and finds more than she bargained for. First in a funny, fast-paced series aimed at aspiring "Stranger Things" fans." - Bookseller
See also: Sticky Pines: The Thing At Black Hole Lake; Sticky Pines: The Valley of the Strange 
Reviews
Samantha
Sticky Pines, where things get weird...!  Lucy Sladan is obsessed by UFO's so, when she hears that something strange is happening to people from her own town, she can't wait to find out what's happening, and sneaks out to investigate for herself. Lost in the woods during a thunderstorm, Lucy stumbles across a huge hairy monster. Equally terrified and thrilled to have finally found proof of 'life a little less ordinary', Lucy is just about to take a photo of this odd creature when lightning strikes. 
Awoken by a stranger in a bright yellow souwester and boots, Lucy finds that she has been rescued by Milo Fisher, the new kid in town; however, her camera is broken and Milo knows nothing about the hairy creature that Lucy is sure she saw.  After convincing the rather 'square and slightly dull' Milo that something strange is going on, the pair quickly find themselves involved in a mystery that could endanger not only Lucy's family but the entire town, if they don't do something to stop it soon.

Sticky Pines: The Bigwoof Conspiracy has got to be one of the best children's adventure stories I have read in a long, long time. Plenty of page turning action and mystery without crossing the too scary, mean or violent line into young adult fiction. Being quite bit older than the age group this book is aimed at, it bought back memories of Scooby Doo Adventures, with its big hairy monsters and a plot that twists and turns enough to keep you guessing who the baddy of the story really is. I almost expected a reference to the 'pesky kids' at some point near the end!

The Bigwoof Conspiracy is the debut novel by the talented Dashe Roberts. This is a really exciting read that I am certain readers of all ages will enjoy. I am already looking forward to the release of the next in the series!

272 pages / Reviewed by Samantha Phillips, teacher
Suggested Reading Age 9+
Dawn
Lucy lives with her parents in Sticky Pines - a remote town away from big cities and phone signals, surrounded by woods and wildlife and the factory which provides work for nearby residents. Lucy is convinced UFOs are real and would like to prove it to those who disbelieve and humour her. So one night, when supposed to be asleep, she sets off to photograph the strange lights she has recently seen. What Lucy hadn't anticipated was seeing more than just bright lights. There is something strange going on and Lucy wants to get to the bottom of it. Lucy is the adventurous friend, her two other friends - boys - less so.

Sticky Pines: The Bigwoof Conspiracy is a fast-moving story which diverts in unexpected directions. The local characters and vocabulary are as bonkers as the storyline, making it a fun book for all newly fluent readers.  Although this adventure comes to a close, there are still many mysteries to uncover, so we know we will meet Lucy again to see what else she can discover that makes Sticky Pines the place it is.

272 pages / Reviewed by Dawn Woods, school librarian
Suggested Reading Age 9+
Other titles