Sticky Pines: The Valley of the Strange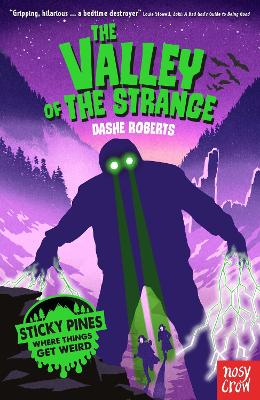 By Author / Illustrator
Dashe Roberts
Genre
Science Fiction
Age range(s)
9+
Publisher
Nosy Crow Ltd
ISBN
9781788008938
Format
Paperback / softback
Published
01-09-2022
Synopsis
Things are FREAKY and about to get even FREAKIER in the sleepy American town of Sticky Pines.  Weirdness mounts upon creepiness to create a riotously funny potion in The Valley of the Strange, the latest explosive instalment of the cult sci-fi series for children.
Lucy Sladan has made the biggest, most bizarre discovery of all time... but still no one believes her. Even her best friend Milo Fisher is not convinced. But his father knows she is on to something. Soon Lucy is in a race to stop Mr Fisher's monstrous efforts to uncover the source of the sticky-pine sap that is making his fortune...and so risking the destruction of the world.  Perfect for the younger siblings of Stranger Things fans, Sticky Pines offers laugh-out-loud, hair-raising sci-fi and mysteries aplenty. The TRUTH is OUT THERE - are you ready for it?   See also: Sticky Pines: The Bigwoof Conspiracy; Sticky Pines: The Thing At Black Hole Lake
Find out more in our Q&A with Sticky Pines author Dashe Roberts
Reviews
Sam
The Valley of The Strange is the third in the Sticky Pines - where things get weird - series by Dashe Roberts. The Sticky Pines adventures is fast becoming one of my favourite series of middle grade books in a long time and, as someone who has never been a fan of science fiction, that really is saying something. Just like the first two books in the series, The Valley of the Strange is a real page turner, with its action-packed adventures, relatable lead characters and their chuckle-worthy retorts. If there are other life forms out there, then I can only hope that they are in a similar form to those supposedly living around Sticky Pines!
Lucy Sladan makes for a great lead protagonist, and you cannot help but be impressed by her determination and confidence. While in contrast her best friend Milo Fisher is often found to be indecisive and fliting between staying loyal to his fortune-seeking Father, or supporting Lucy with her crazy ideas, as she searches for proof that the wildlife of the local forest area is not all that lurks in the woods. Lucy, like all the best paranormal investigators, trusts her 'gut instinct' and is certain there are aliens living in the woods that surround Sticky Pine - although these 'shapeshifters' seem to have gone to ground, following the recent mining activity of Mr Fisher's company Nu Co. which is searching for the source of the unusually sweet sap, Nucralose, that can be found in the woods.
Lucy's belief that there are other forms of life nearby are stronger than ever in this adventure and right from the start it's clear that her determination is going to land her in trouble, particularly since Mr Fisher seems to be the only person that also believes something strange is out there. But while Lucy is keen to find out all about these so called 'Pretenders', Mr Fisher's plans seem much more sinister.
I've said it before for the earlier books in this series and I still think that these fabulous books have a real 'Scooby Doo' flavour to them; Pesky, interfering kids, fortune hunting baddies, strange creatures, and in this book you also get a mind-numbing yellow mist. An absolutely bonkers mixture but most certainly enough intrigue and fun to make this a firm favourite for all young readers. An ideal series of books to get any Upper Key Stage 2 reader wanting to read more!
320 pages / Reviewed by Sam Phillips, teacher
Suggested Reading Age 9+
Sue
As Lucy Sladan continues her investigation into the Pretenders - a race of shapeshifters she and her friend, Milo, discovered which has been living secretly in Stinky Pines for generations - things are about to get weird once more. Her father - Silas - has suddenly decided that the family should move to California so that he can pursue a career in music. Meanwhile, Milo's dad is determined to keep digging for the source of all the goo flowing beneath the town, putting lives in danger.
A quirky, enjoyable concoction of mayhem and madness, The Valley of the Strange is the third book in the 'Sticky Pines' series. With paranormal activity and plenty of humour, it is sure to appeal to young readers - reluctant and otherwise! Events move at a cracking pace. Lucy is driven by her desire to find the truth: curious, courageous and determined, nothing is going to stop her investigations. Milo, on the other hand, is a 'mixture of confusion and guilt' as he is torn between his friendship (and developing feelings!) for Lucy and loyalty to his father.
As this book ends with dramatic events and shocking revelations, there is surely more to come from the world of Sticky Pines!
320 pages / Reviewed by Sue Wilsher, teacher
Suggested Reading Age 9+
Other titles