Sticky Pines: The Wrath of the Blob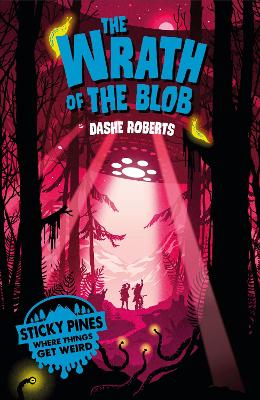 By Author / Illustrator
Dashe Roberts
Genre
Science Fiction
Age range(s)
9+
Publisher
Future Human
ISBN
9781399954150
Format
Paperback / softback
Published
03-08-2023
Synopsis
HOT DIGGITY DANGER. The world is in MEGA TROUBLE and only Lucy Sladan knows it. Her dear friend Milo is trapped in a mystifying mile-wide blob, his scheming father has kidnapped her extraordinary neighbours, and an ancient civilisation is hurtling across the galaxy to destroy all life on Earth. But not even an intergalactic invasion can keep Lucy from the mind-melting TRUTH that could save the human race....
Heart-pumping adventure, interstellar calamities and wild surprises await you in the epic, inevitable and totally astonishing conclusion to the Sticky Pines saga.
Reviews
Sam
Sticky Pines: The Wrath of the Blob is another brilliant adventure by Dashe Roberts. Although the long-awaited conclusion of the Sticky Pines series, The Wrath of the Blob is a great standalone read. However, this 'toe dipping' experience of the sci-fi genre really comes into its own if you have read some, if not all, of the earlier books in the series.
In The Wrath of the Blob, Lucy and Milo are confronted with an existential threat that puts planet Earth at risk, unless they can untangle the truth about Sticky Pines, and humanity, once and for all. As if saving the world is not a big enough task for anyone, Lucy must first rescue her friend, Milo from a mysterious blob. Undeterred by Milo's scheming father, Lucy knows that she is the only one who has any chance of saving her friend, before it is too late.
This is a great read and, as with the earlier books in the series, it is absolutely riveting. A fabulous adventure story that helps its reader understand the true value of friendship. A must-have series for any KS2 classroom / ages 8+.
304 pages / Reviewed by Sam Phillips, teacher
Suggested Reading Age 9+
Other titles