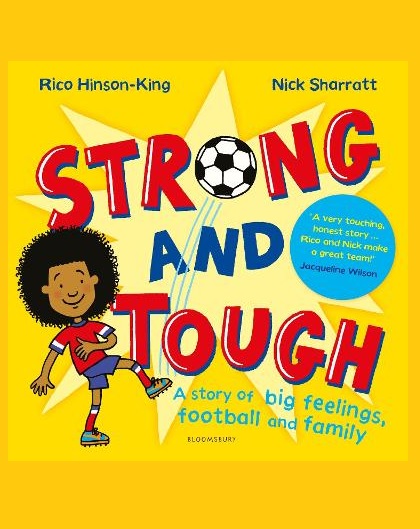 By Author / Illustrator
Rico Hinson-King, Nick Sharratt (Illustrator)
Genre
Family & Home
Age range(s)
5+
Publisher
Bloomsbury Publishing PLC
ISBN
9781526648631
Format
Paperback / softback
Published
18-08-2022
Synopsis
An empowering adoption story by ten-year-old Premier League Young Writer of the Year Rico Hinson-King, illustrated by the award-winning Nick Sharratt.
There is a kid. Let's call him Charlie.  On the outside he looks like every other football-mad boy of his age. But he isn't ...  A story of hope and resilience, this gentle, inspiring picture book tells the tale of Charlie, a little boy who was taken into care when he was very small. Charlie dreams of finding his forever home to share with his sisters. Sometimes he feels scared. Sometimes he wants to scream and cry (and he does, just a little). But he is strong. He is tough.
Strong and Tough is by the amazingly talented ten-year-old Rico Hinson-King. Rico, like Charlie, found strength and resilience along the journey to find his forever family (and played lots of football along the way!). Rico is a Junior Premier League footballer with a knack for words too, who wrote his story so that other children going through similar circumstances can feel less alone, and to encourage empathy in others. His moving and powerful words are paired with warm, friendly illustrations by the award-winning Nick Sharratt, who famously illustrated many of Jacqueline Wilson's books including the Tracy Beaker series.  'A very touching and honest story ... Rico and Nick make a great team!' - Jacqueline Wilson.  
Find out more from author Rico Hinson-King
Reviews
Elen
What a powerful and impressive picture book, told by a young author, Rico Hinson-King, who spent his early childhood in the care system. His story - told through the character Charlie in Strong and Tough - is one of resilience and emotional honesty.
Strong and Tough helps explain the kinds of experiences children in care or adopted children might be going through, as well as encouraging all children to reflect on what they are feeling and to talk about their emotions. The fact that the character, Charlie's, love of football shines through the pages might help boys, in particular, to take his message about emotional honesty on board.
The child in the story, Charlie, introduces himself and his love of football - the one thing that helps him to escape from his experiences of life in foster care, and being separated from his sisters. While he repeatedly reminds us of his emotional resilience - he is 'strong and tough' - we also recognise that he is very sad and struggling with these experiences. Luckily, Charlie does find his 'forever family', and with his sisters; his resilience has seen him through the difficult times, but by showing us that he was also emotionally vulnerable, the child reader understands the importance of talking about our feelings during times of sadness and anxiety.
Nick Sharratt's lively and warm illustrations bring the text to life, and Charlie's anxious and happy times - and particularly the joyous times with his new family - shine through the pages.
This picture book can be shared with children of all primary ages and will help readers understand that children might be going through difficult times outside the school gates, as well as delivering a heartfelt message about emotional honesty. Highly recommended.
Picture book / Reviewed by Elen Green.
Suggested Reading Age 5+
Other titles