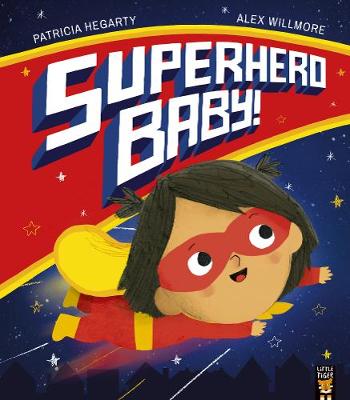 By Author / Illustrator
Patricia Hegarty, Alex Willmore
Genre
Picture Books
Age range(s)
3+
Publisher
Little Tiger Press Group
ISBN
9781788815932
Format
Paperback / softback
Published
05-08-2021
Synopsis
What happens when disaster strikes? Who you gonna call? Superhero Baby! She's the bravest of them all! GO GO BABY POWER!
A rhyming, comic caper - guaranteed to get you giggling!
Reviews
Jessica
Hold on to your nappies! Keep your rattles at the ready! There's a new hero in town, and she means business!' Highly acclaimed author Patricia Hegarty has created yet another brilliantly engaging rhyming picture book, Superhero Baby!, which will have you sniggering.
We immediately invest in this superhero story when we are presented with a baby on the front cover wearing what all real superheroes should - a cape and a mask! Superhero baby goes to the rescue when her town is in trouble in this comical action packed story. Each time, we cheer and join in with a familiar phrase each time, 'GO-GO BABY POWER!', all while her 'perfect' brother sleeps peacefully… or does he? Who is causing all this trouble? There must be a Super Villain!
Illustrator Alex Willmore has cleverly set this book out in a comic book style so we really are transported into the superhero world! This layout is ideal for targeting reluctant readers as we feel like we are reading a comic magazine that can be enjoyed over and over again. The BAME characters ensure an even broader appeal as Alex Willmore uses diverse illustrations.
This book is ideal for children to read together or share with parents/adults or even older siblings as we chuckle together at Superhero Baby and her twin's antics!
Picture book / Reviewed by Jessica Bunney, teacher
Suggested Reading Age 3+
Other titles