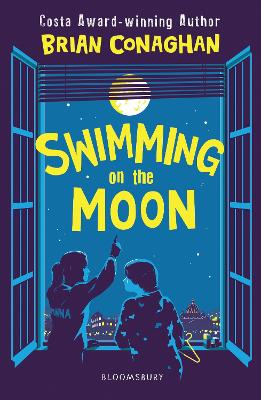 By Author / Illustrator
Brian Conaghan
Genre
Family & Home
Age range(s)
9+
Publisher
Bloomsbury Publishing PLC
ISBN
9781526653925
Format
Paperback / softback
Published
16-02-2023
Synopsis
Twelve-year-old Anna's parents are going through a rough patch, but Anna can't let them split up. Not when it might mean living apart from Anto, her twin brother. Anto might be a boy, and he might not speak (except using Lego bricks), and he might carry a coat hanger about like it's his closest friend, but that doesn't stop the two of them being like peas in a pod. It's a twin thing, and nobody's going to separate them.
So Anna hatches a plan: get the whole family on a plane to Italy. Her parents have always been happiest on holiday. How can they fail to fall back in love at a swanky hotel with an actual pool to swim in and everything! But when Anna discovers more about why her family has grown apart, suddenly a happy holiday in Italy seems about as likely as swimming on the moon...
Find out more from author Brian Conaghan
Reviews
Louisa
Anna remembers happy holidays with her family in the past and dreams about more in the future. But, right now, there is the much more awkward present to negotiate. Her parents seem to be arguing constantly and when she and her twin, Anto, eavesdrop at the top of the stairs, Anna's worries only increase. Can it be that her parents are planning to split up and separate her from Anto? Anto might be a boy, and annoying - and he might be unable to speak or go to the same school - but she knows that they need to stay together whatever: it's a twin thing. Then Anna wins a place at a dancing competition in Rome, and feels the solution within her grasp. Surely, a family holiday in Italy will patch up everyone's difficulties, won't it?
Swimming on the Moon is a perfect new story to share with any children whose parents are going through a rough patch as well as with those who have siblings with different needs. Through Anna's eyes, we start to piece together the complications behind the arguments and through her voice we hear her anger, confusion and sadness. But her lack of self-pity, her vivid imagination and her practical understanding of her brother hold both Anna and the narrative together.
I enjoyed the way that she explicitly takes inspiration from her reading, borrowing from Judy Blume and Nancy Drew and that she accepts - and loves - her brother just as he is. Anna's perspective feels honest and believable; she's a character to relate to and her story of coming to terms with unwelcome changes is, ultimately, hopeful.
336 pages / Reviewed by Louisa, teacher
Suggested Reading Age 11+
Other titles