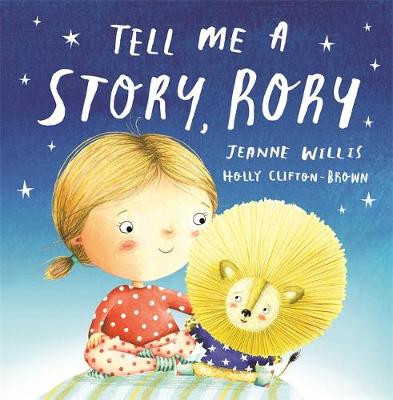 By Author / Illustrator
Holly Clifton Brown, Jeanne Willis
Genre
Adventure
Age range(s)
3+
Publisher
Hachette Children's Group
ISBN
9781444917680
Format
Paperback / softback
Published
22-02-2018
Synopsis
A touching, timeless story about love and growing-up from bestselling author Jeanne Willis and rising star Holly Clifton-Brown.

Rory the lion can't sleep without a bedtime story and the little girl never forgets to tell him one. But one day the girl - not so little now - goes away. If Rory tells his own bedtime story will it somehow come true? Will it bring his little girl back?
Jeanne Willis is an award-winning author who has written over 150 books, including The Bog Baby, the Paddington Movie novelisation and Tadpole's Promise.
Reviews
Fiona
This is another sympathetic story from Jeanne Willis in which a little girl has a close relationship with a lion who lives in her bedroom. The lion, Rory, cannot sleep without a bedtime story so the little girl tells him stories linked to her life: her first day at nursery and the birth of her baby brother. This is a symbiotic relationship between the two; the little girl creating stories and the lion listening and falling a sleep. However, all is not perfect for the two as the little girl is growing up and one day, she doesn't come back, much to the distress of Rory. Rory is very sad without her and has difficulty sleeping so he starts to tell himself stories about adventures he and the little girl have together; perhaps this way he can bring her back. The book is colourfully illustrated by Holly Clifton-Brown and the illustrations bring the story very much to life. The lion is particularly attractive with a large frill around his head to represent his mane. It is a gentle story which could easily be extended with an early years class. Picture book / Ages 3+ / Reviewed by Fiona Collins, consultant.
Suggested Reading Age 3+
Other titles