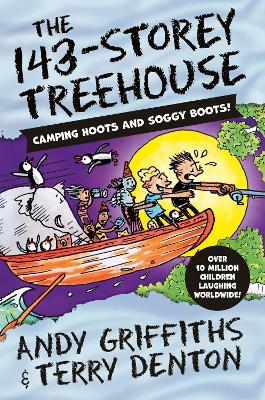 By Author / Illustrator
Andy Griffiths, Terry Denton
Genre
Funny Stories
Age range(s)
7+
Publisher
Pan Macmillan
ISBN
9781529047875
Format
Hardback
Published
19-10-2021
Synopsis
There are lots of laughs at every level in The 143-Storey Treehouse, the new book in the number one bestselling Treehouse series from Andy Griffiths and Terry Denton, out in hardback.

We've added thirteen new levels to our Treehouse (it used to be 130 storeys, but it keeps on growing!) including a word-o-matic (it knows every word in the whole world!); a recycling depot; a wrecking ball; a deep, dark cave with a real live, fire-breathing dragon; a complaining room; a spooky graveyard (where it's always midnight, even in the middle of the day); and a camping ground where you can have a nice, relaxing camping holiday.

Andy's been a bit stressed, so Terry has decided the perfect way for them to relax is to head up to their new camping ground level for a much-needed holiday. But it turns out to be not quite as relaxing as Terry originally planned. . . Terry forgets to pack the tent and the food, their attempt at fishing ends in disaster, the spooky campfire stories are a little too spooky and then, to make matters worse, all of Andy's fellow campers start mysteriously disappearing.  Can Andy brave the dark, dark woods and rescue them in time to finish writing their next book?

Well, what are you waiting for? Come on up!
Reviews
Samantha
The 143-Storey Treehouse - the 11th and latest book in the Treehouse story series by Andy Griffiths and Terry Denton - is a fun, quick read that will inevitably appeal to newly independent readers as much as those children who have developed a good reading stamina and a true love of books.  The story is fast-paced, with plenty of things happening as the story progresses; an ideal format to encourage its reader to turn the page and read on. Written using clear, child-friendly language, this book provides a wealth of easy to understand humour. Great for any LKS2 / middle grade reader.
Once again the treehouse has grown, this time Andy's renovations include a camping ground and a cave that makes a dark home for a fiery dragon, to name just a few, and all is good. That is until his friends start to disappear….
Terry Denton's brilliant cartoon-style drawings add to the appeal of this book, making sure that each illustration provides 'amusing treasures' found only with careful scrutiny, while the 'word of the page' is outrageously simple. An ideal morale boost for developing readers.
My Year 3 class love the Treehouse series books and I am sure that they will be just as keen to read this one. The 143-Storey Treehouse will most definitely make a great stocking filler for any young reader.
Suggested Reading Age 7+
Other titles