The Bad Seed Presents: The Good, the Bad, and the Spooky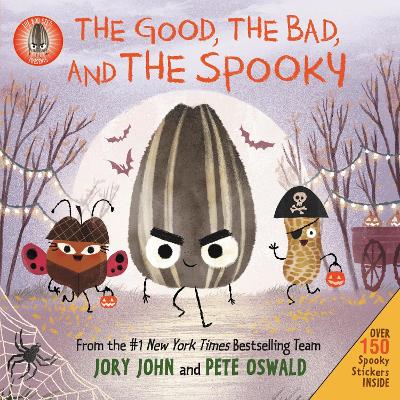 By Author / Illustrator
Jory John, Pete Oswald
Genre
Picture Books
Age range(s)
3+
Publisher
HarperCollins Publishers Inc
ISBN
9780062954541
Format
Hardback
Published
02-09-2021
Synopsis
A #1 New York Times Bestseller!
Based on the New York Times bestselling picture book sensation The Bad Seed, Jory John and Pete Oswald present: The Good, the Bad, and the Spooky! Includes two sticker sheets, perfect for decorating your own mini jack-o'-lantern.
Halloween is the Bad Seed's favorite holiday of the year. But what's a seed to do when he can't find a show-stopping costume for the big night? Postpone trick-or-treating for everyone, of course!
Can he get a costume together in time? Or will this seed return to his baaaaaaaaad ways?
Find out in this hilarious, charming, and thought-provoking continuation of Jory John and Pete Oswald's bestselling Food Group series.
Reviews
Joanna
A wholesome and very different Halloween story with a fantastic message to end. This is the perfect seasonal book to share with small children and teach them the value of Halloween. The Good, the bad and the Spooky tells the story of a sunflower seed living on a sunflower in a field where everyone takes dressing up for Halloween very seriously. But, the little seed is having trouble coming up with an outfit this year and he reminisces about how he and his friends used to dress up together, but now they've all grown a little older and more independent. He worries that he won't have a costume as good as everyone else. The seed decides he needs more time, so he plans to tell everyone that Halloween has been postponed until the following night.
Everyone is very sad to hear this news and the seed goes off to stew in his mood. That is until he meets a fellow seed – a Pumpkin seed – who expresses how much pressure is on him every year. The pumpkin seed teaches the sunflower seed the true message of Halloween – fun! He reminds the sunflower seed that Halloween is not about what costume you wear but about having fun with your friends. The seed reinstates Halloween and sets about making a costume out of a paper bag. He is happy and goes off to enjoy himself.
The lovely message in this story is teaching children that Halloween isn't about how much you spend on your costume, or having the best costume. It is about designing and making a costume from what you already own, going out with your friends in the community and having lots of fun. This story is also excellent for reminding parents about what is important. As parents we can get so caught up in trying to make everything 'perfect' and spending far too much money on a costume that is worn for only a few hours. When actually what your child wants to do is spend time with you making their own costume and running around with their friends. This story is the perfect reminder of this.
The illustrations are fantastic in this book, each character is very expressive and it is easy for very little children to follow along as they can see the variety of emotions on each character's face. It amazes me how the illustrator has managed to make a sunflower seed so expressive (it's all in the eyebrows). Colourful and expressive the illustrations jump off the page and perfectly illustrate the narrative. An excellent Halloween story with a difference.
Picture book / Reviewed by Joanna Hewish, teacher
Suggested Reading Age 3+
Other titles