The Beast of Harwood Forest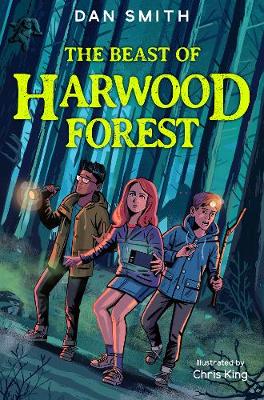 By Author / Illustrator
Dan Smith, Chris King
Genre
Mystery & Detective
Age range(s)
9+
Publisher
Barrington Stoke Ltd
ISBN
9781781129876
Format
Paperback / softback
Published
06-05-2021
Synopsis
What's hiding in Harwood Forest?  When Pete, Nancy and Krish arrive at Heathland Camp for a school trip, they're in for an adventure - just not the kind they were expecting.  Nearby sits the abandoned Harwood Institute. The crumbling buildings are out of bounds but strange screams come from the surrounding forest at night. Mystery shrouds the events that took place at the institute during the war, so Pete and his friends make it their mission to find out the truth. But the forest is hiding a sinister secret, and the trio could be in real danger ... Are some mysteries best left undisturbed?
See Also: The Invasion of Crooked Oak (book 1); The Horror of Dunwick Farm (book 2) (The Crooked Oak Mysteries)
Reviews
Beverley
Pete, Krish and Nancy are off on a school trip to Heathland Camp, where they are expecting to have a great time. There are derelict Ministry of Defence buildings nearby which they have been told are out of bounds, but Pete decides that they must go and investigate them. They discover that the buildings were once used by The Harwood Institute – but just what kind of research went on there? The children head off in the middle of the night to see what they can learn about this strange place, but they get much more than they bargained for when they find a monster in the forest!
There are many twists and turns in this fast-paced and exciting book. This is the second adventure for Pete, Krish and Nancy, and once again Dan Smith has produced an excellent story. It holds the attention from page one, and is just spooky enough to send a few shivers down the spine! The three main characters are all well-written, and are brave and curious to find out just what is going on in Harwood Forest, and the story never flags as the children move from one scary scenario to another.
Most of the story takes place at night, and Chris King's strong black and white illustrations perfectly complement this, accompanying the text perfectly. Published by Barrington Stoke, this book is printed on their customary cream paper, using an accessible font. Consequently it is ideal for dyslexic readers, but as a well-written adventure story it will be enjoyed by any reader. I am sure that there will be more adventures to come for Pete, Krish and Nance, and I look forward to reading them.
112 pages / Reviewed by Beverley Somerset, School Librarian
Suggested Reading Age 9+
Other titles