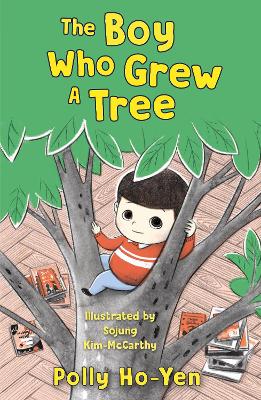 By Author / Illustrator
Polly Ho-Yen, illus Sojung Kim-McCarthy
Genre
Early Readers & Young Fiction
Age range(s)
5+
Publisher
Knights Of Media
ISBN
9781913311308
Format
Paperback / softback
Published
05-05-2022
Synopsis
Nature-loving Timi is unsettled by the arrival of a new sibling and turns to tending a tree growing in his local library. But there is something magical about the tree and it is growing FAST... and the library is going to close. Can Timi save the library and his tree, and maybe bring his community closer together along the way? A charming early reader for ages 5-8, filled with black-and-white illustrations.
Reviews
Lauren
The Boy Who Grew A Tree is a heart-warming and sweet story of Timi who tells the story of his childhood to his Granddaughter. When Timi was a little boy, he spent a lot of time at after school club and at his Aunties; he was about to be a big brother. Whilst at club, he met a group of children who led him astray. They ended up at an abandoned Library; Timi was the only brave one and went inside. When he was inside he found a sapling. Timi loved to watch things grow and protect all living things so he nurtured the tree and gave it water and sunlight. What he didn't realise was that his tree was MAGIC!
The book touches upon new siblings and coping with this, making friends and making decisions. I thoroughly enjoyed this book and the message it had, the ending was beautiful and I can't believe I haven't seen this before! I would thoroughly recommend this book for independent reading as well as a bed time story.
112 pages / Reviewed by Lauren, teacher
Suggested Reading Age 7+
Other titles