The Boy Who Made Everyone Laugh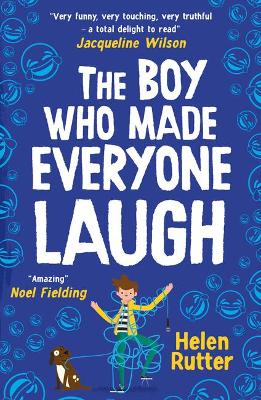 By Author / Illustrator
Helen Rutter
Genre
Funny Stories
Age range(s)
9+
Publisher
Scholastic
ISBN
9780702300851
Format
Paperback / softback
Published
04-02-2021
Synopsis
Billy Plimpton is an 11-year-old boy with a big dream. He wants to be a stand-up comedian when he grows up: delivering pinpoint punch-lines and having audiences hang on his every hilarious word. A tough career for anyone, but surely impossible for Billy, who has a stammer. How will he find his voice, if his voice won't let him speak?
The idea for this story came from Helen Rutter's son, who has a stammer: she wanted to write the book that he would love to read, starring a child like him.
Praise for The Boy Who Made Everyone Laugh 'This incredibly debut tugs at your heartstrings and makes you laugh out loud in equal measure. I guarantee you'll be cheering along in the final pages!' Lisa Thompson. 'As warm and wise as it is funny.' Shappi Khorsandi.  'This book is a great way of showing children how to be confident and winners by having a sense of humour and making others laugh.' Baroness Floella Benjamin
Reviews
Janet
Telling a story about someone who has a problem does not always work, often making the reader feel sorry for him/her, which does not always make for a good read. Helen Rutter has overcome this in The Boy Who Made Everyone Laugh by making Billy Plimpton into a real hero, who overcomes his stammer by realising his ambition of becoming a comedian, while at the same time filling the reader with admiration for his courage and persistence.
Billy is about to start secondary school and determines that he will overcome his stammer by various means. Until he can, he decides not to speak. He creeps about the school hiding in various places, until the day of the 'talk about yourself' moment in class. He overcomes that by admitting he has a stammer in a novel way, and this opens the door to friendship but also to the class bully.
Billy loves jokes and really wants to enter the talent contest as a comedian. How he achieves this makes for a funny and warm story with a satisfying ending. The message is loud and clear; because Billy persists, even drinking some foul tea to try and get rid of his stammer, he does succeed - just not in the way he thought. But his friends also have problems and this subtly reinforces the message that everyone is different and that is good and everyone should be accepted for who they are.
Billy's anxious Mum and Dad and his little sister Chloe are very real, trying hard to bolster Billy's confidence, while not overprotecting him. Mr. Osho, Billy's lovely teacher who introduces him to jazz and finds a way to sort out the class bully who has a problem of his own, and Billy's friends, (one of whom is deaf, one has ADHD and one is just plain taller than the others), all are beautifully drawn and reinforce the feeling that the world is full of good people.
Helen Rutter wrote this, her first novel, for her own son but she has a sure touch with characters and so hopefully will write other stories. Boys and girls of 9+ will enjoy this and the sometimes terrible jokes at the beginning of each chapter!
360 pages / Reviewed by Janet Fisher, librarian
Suggested Reading Age 9+
Other titles