The Funniest Boy in the World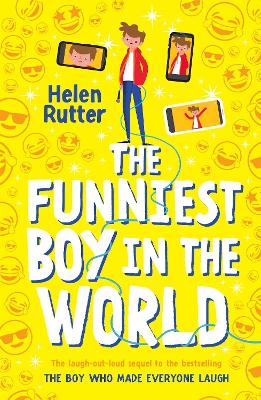 By Author / Illustrator
Helen Rutter
Genre
Friends and family
Age range(s)
9+
Publisher
Scholastic
ISBN
9780702314674
Format
Paperback / softback
Published
02-02-2023
Synopsis
Billy Plimpton took to the stage and captivated the crowd at the triumphant ending to The Boy Who Made Everyone Laugh, and in the sequel, he's going to go viral. Celebrity comedian Leo Leggett takes Billy under his wing, as his new sidekick: when Leo tweets a clip of his stand-up act, Billy suddenly becomes the most famous boy in the country. At first, this is GREAT - all the kids at school think he's cool and he gets to appear on his favourite morning TV show. But Leo's motives turn out to be shady and Billy must turn the tables in a very public way...
The idea for this story came from Helen Rutter's son, who has a stammer: she wanted to write the book that he would love to read, starring a child like him, packed with brilliant jokes and one-liners to make kids roar with laughter; a book to encourage empathy and kindness in young readers.
Perfect for fans of Jacqueline Wilson, Lisa Thompson and Jenny Pearson. Praise for The Boy Who Made Everyone Laugh 'This incredible debut tugs at your heartstrings and makes you laugh out loud in equal measure. I guarantee you'll be cheering along in the final pages!' Lisa Thompson. 'As warm and wise as it is funny.' Shappi Khorsandi.  'A laugh out loud story, the like of which I've never read before.' Kerry Godliman.
See also:  The Boy Who Made Everyone Laugh
Reviews
Janet
This is the sequel to The Boy Who Made Everyone Laugh which I also reviewed for Reading Zone. It follows schoolboy Billy Plimpton's 'career' as a stand-up comedian, despite his stammer. At a festival Billy meets Leo Leggett who appears to be his friend and promises help with his career, but Leo has another agenda which it takes Billy some time to understand. Together with his friends Skyla, Blakemore and new friend Kit, and on a royal occasion, Billy exacts his revenge. All this against the backdrop of his Mum being very heavily pregnant, Skyla having an alcoholic mother and being placed into foster care, and Billy becoming obsessed with social media!
Billy is an engaging character and many young people will understand his desire to be famous, and the perils of this are subtly pointed out by the author. The serious issues are not hidden but also not hammered at the reader, and his habit of making lists, dealing with his Mum, school life and visiting Mrs Gibbens, make for a rounded and human story. The ending is a little implausible but all ends well.
Maybe this is time to leave Billy while he finishes school, and learns to be a comedian? The temptation always is to carry on, but this author is too good not to write other stories, as she has the knack of engaging the reader with humour about family life and the problems many of us have with our lives, in this case stammers, being too tall or Skyla's mother's addiction to alcohol.
360 pages / Reviewed by Janet Fisher, librarian
Suggested Reading Age 11+
Other titles