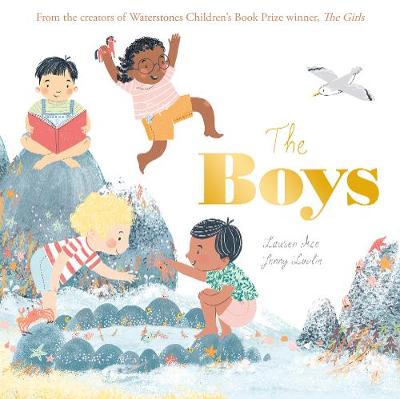 By Author / Illustrator
Lauren Ace, Jenny Lovlie
Genre
Friends and family
Age range(s)
3+
Publisher
Little Tiger Press Group
ISBN
9781838911591
Format
Hardback
Published
01-04-2021
Synopsis
The boys had been friends for as long as they could remember and a little while before that. They were like brothers.  Follow the adventures of four boys as they grow up, forming bonds of friendship to last a lifetime - even if they are occasionally put to the test...  From the creators of the Waterstones Children's Book Prize winner, The Girls.
"Gentle, tender and joyful..." - Guardian.  "...a nostalgic story with a refreshingly modern feel." - Daily Telegraph.   "The book is at pains to show non-stereotypical images of boys and men... and manages to be not only insightful but affecting." - Financial Times
Reviews
Wendy
The Boys is a very unusual book by the same authors as the prize-winning story The Girls. A group of boys who have known each other since birth and who were always best friends find themselves growing apart as they grow into their teenage years. They realise that the distance between them is having a negative impact and that every boy needs a wingman to share his highs and lows, successes and failures and to talk about how he feels with. They re-connect and the story shows them supporting each other as they become men and become fathers themselves.
The pictures are detailed and are completely inclusive, showing a range of ethnicities and orientations. The text is clear and easy to read and children in Key Stage One should be able to read it without support. A great book to have on any little boy's bookcase to remind him about the need for a close support network you can share hopes, fears and feelings with.
32 pages / Reviewed by Wendy Kelly
Suggested Reading Age 5+
Other titles