The Cat and the Rat and the Hat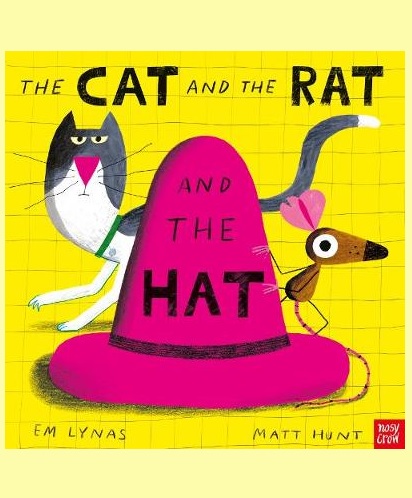 By Author / Illustrator
Em Lynas, Matt Hunt
Genre
Picture Books
Age range(s)
3+
Publisher
Nosy Crow Ltd
ISBN
9781839941566
Format
Paperback / softback
Published
01-07-2021
Synopsis
A raucous, rhyming tale that will have children (and adults) in fits of laughter!  Cat is sitting on his favourite mat, when who should come along but Rat with a very nice hat? Cat wants Rat's hat and will stop at NOTHING to get it. But when Bat arrives wearing a fancy cravat, well, what could be better than that? Chaos ensues as both Cat and Rat decide they MUST have Bat's fancy cravat for themselves!
From Em Lynas and Matt Hunt comes this hilarious, read-aloud picture book, bursting with comic capers and animal antics.With a hilarious, tongue-twister text, slapstick humour, bright neon artwork and colourful, comic characters.Perfect for fans of Oi Frog! Every Nosy Crow paperback picture book comes with a free 'Stories Aloud' audio recording - just scan the QR code and listen along! See also The Goat and the Stoat and the Boat.
Here's a video with author Em Lynas introducing Cat, Rat and Bat
Reviews
Jessica
This is quite literally a game of cat and mouse… well, switch the mouse to and rat and add in a hat and a bat and you've got a highly energetic and hilarious story! Cat and Rat engage in an infamous feud which enters a whole new level once Bat arrives with a fancy cravat.
Em Lynas has superbly written The Cat and the Rat and the Hat so that it is full of simple, rhythmic and poetic language. The predictive rhymes make this book perfect for sharing aloud with children as they will not be able to fight the natural urge to join in with the rhymes. If your children are fond of the Oi Frog! series then this is a great addition to your book shelf.
The vibrant, comical illustrations by Matt Hunt tell the story in a deeper level where the reader can almost read the animals minds as they see the raw emotion on their faces. The accompanying audiobook that comes with Nosy Crow picture books makes this story even more of a treat. The sound effects are really effective, as are the expressive voices making this story ever more interactive for our little ones.
The repetitive use of rhyming CVC words, for example: mat, cat, hat and sat, makes this book perfect for our youngest readers who are new to their reading journey.
32 pages / Reviewed by Jessica Bunney, teacher
Suggested Reading Age 3+
Maria
This is the perfect new addition to any young child's bookcase or classroom reading area. It had a room of 30 children in stitches... as well as the adults! This story not only supports a focus on rhyme and phonics, but of comprehension too. It is very cleverly written with these focuses in mind.
Don't be fooled by thinking this is a simple 'cat on a mat'-style story, for what follows from the first page is a battle between the cat and the rat for the hat. It's an ongoing battle with humour, prediction and suspense. When a bat in a cravat arrives unexpectedly and wants in on the story, and the hat, too!
With phonetically simple sentences, all matched with bold, vibrant illustrations, the reader and listener are able to understand each part of the story as it happens. A wide opportunity for early comprehension and understanding of story sequencing is available throughout this text. The story is incredibly engaging as are the illustrations.
This is definitely a perfect text for early readers and young children as it will engage and enthuse them into literature, picture books and storytelling. This version also includes a free, stories aloud audio reading which is easily accessible on smartphones and allows children to listen to the story either independently with or without the text in front of them.
Picture book / Reviewed by Maria Faithorn, teacher
Suggested Reading Age 5+
Maria
We loved this hilarious tale of Cat, Rat and the Hat and all the the antics that ensued following Cat's desire to have Rat's hat! This story shows the relationship between Rat and Cat as they argue over the pink hat. It is not long until Bat arrives to join in the fun with his fancy cravat!
This clever text by Em Lynas ensures children are able to join in and predict using their knowledge of rhyme. My Year 2 children were joining in immediately and were totally engaged in this very funny story. The illustrations by Matt Hunt are bold and bright and tell the story creatively. We liked the vertical pages showing the hat moving between the characters!
A huge hit in class. In fact as soon as we had shared it, I was asked to read it again. That demonstrates what a brilliant book it is! This book is a must for any EYFS or KS1 classroom and is an engaging story developing rhyme knowledge and phonics.
Picture book / Reviewed by Maria Aldred, teacher
Suggested Reading Age 5+
Amanda
Uh-oh! Cat and Rat both want that big hat. Whatever will happen when Bat arrives with a fancy cravat? This brightly coloured, fun, rhyming story is sure to be a bedtime favourite with young children. The repetitive language will draw children in and use of CVC words will encourage early reading skills. This would be a wonderful addition to a classroom book box for individual reading or children's book shelves.
Picture book / Reviewed by Amanda Shipton, teacher
Suggested Reading Age 3+
Other titles