The Goat and the Stoat and the Boat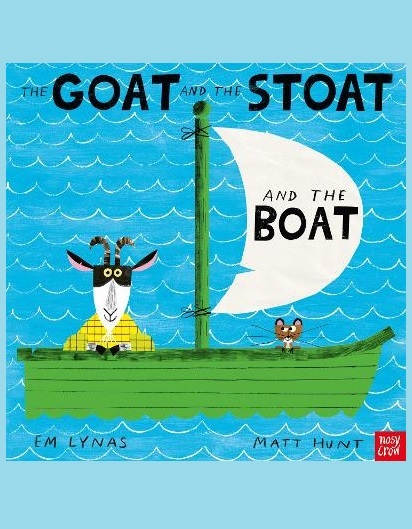 By Author / Illustrator
Em Lynas, Matt Hunt
Genre
Friends and family
Age range(s)
5+
Publisher
Nosy Crow Ltd
ISBN
9781839944215
Format
Paperback / softback
Published
04-05-2023
Synopsis
A raucous, rhyming tale that will have children (and adults) in fits of laughter!
Stoat is playing in his favourite boat when suddenly Goat comes bounding in! Chaos ensues as an angry Stoat tries to chase Goat out of his boat. But before long, Goat and Stoat's lively antics make the boat wibble and wobble! Uh-oh! Can Stoat float in the water? And will Goat's colourful coat be ruined?
From the duo behind the bestselling The Cat and the Rat and the Hat comes this hilarious, read-aloud picture book, bursting with comic capers and animal antics.  Features a hilarious, tongue-twister text, slapstick humour, bright neon artwork and colourful characters.  Perfect for fans of Oi Frog!
Every Nosy Crow paperback picture book comes with a free 'Stories Aloud' audio recording - just scan the QR code and listen along!  See also: The Cat and the Rat and the Hat.
Author Em Lynas reads from The Goat and the Stoat and the Boat
Reviews
Maria
The Goat and the Stoat and the Boat is a hilarious adventure tale of rivals stoat and goat, who battle it out for a place in a boat! With fantastic rhyme, colourful illustrations and opportunity for exposure to expression - the children will be roaring with laughter as they join along with the rhyming strings, and make predictions for what is upcoming.
This hilarious tale is another by the creators of The Cat and the Rat and the Hat, and offers great opportunity to engage children in rhyme, repetition, creativity and prediction. A must for all book shelves!
Picture book / Reviewed my Maria Faithorn, teacher
Suggested Reading Age 3+
Maria
If you love rhyming books, The Goat and the Stoat and the Boat is another clever, funny book by Em Lynas and Matt Hunt. The main characters goat and stoat are not keen on sharing a boat. The amazing illustrations detail the antics of the characters, with pages turning from horizonal to vertical and deftly capturing the reader's eye and their attention!
This fabulous book follows The Cat and the Rat and the Hat and is a must for every classroom. My Year 2 children (ages 6+) loved that Goat and Stoat could not share the boat and wrote labels on the side of the boat, claiming the boat for themselves! A super rhyming book!
Picture book / Reviewed by Maria, teacher
Suggested Reading Age 5+
Other titles