The Duck Who Didn't Like Water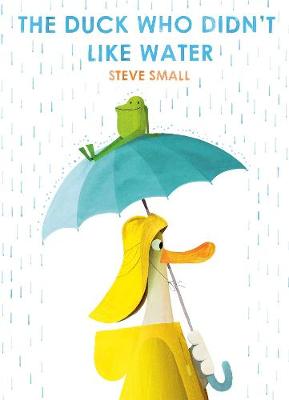 By Author / Illustrator
Steve Small
Genre
Friendship
Age range(s)
3+
Publisher
Simon & Schuster Ltd
ISBN
9781471192340
Format
Hardback
Published
15-04-2021
Synopsis
A wise, funny fable about how we don't need to like the same things to find our perfect pal.
Duck is not like other ducks. Duck doesn't like water and is perfectly fine alone, thank you very much. But then, one dark and stormy night, an outgoing, water-loving, and very lost Frog turns up at Duck's door. Can this odd couple find Frog's home? And will they find friendship along the way?
This endearing, gorgeously illustrated tale marks the author-illustrator debut for Steve Small, illustrator of the highly acclaimed, I'm Sticking with You.
Reviews
Jessica
I knew this book was going to be an interesting one as soon as I read the title, The Duck Who Didn't Like Water - how peculiar! If I wasn't already drawn to this book, the prominent bright yellow colour when flicking through this book at first glance certainly would have succeeded in captivating my attention.
This is acclaimed illustrator Steve Small's debut authored book and he has achieved a story that is just as bold and memorable as its illustrations. We meet Duck who, on rainy days, likes nothing more than cosying up with a good book and a hot drink. This norm changes suddenly one night when Duck discovers a hole in the roof. We all know where this is heading… On Duck's travels to find a bucket to catch the water, he meets Frog. Frog likes water very much! Could this unlikely friendship blossom or will their differences divide them?
This story explores the value of friendship, celebrating differences and overcoming personal challenges and barriers to achieve happiness. It is the illustrations that tell much more to this story than the first read of the book. We see that the ability to compromise is the key! This story defines 'heart-warming' and is one to be enjoyed by all ages, over and over again, whilst poring over the very telling illustrations.
Picture book / Reviewed by Jessica Bunney, teacher
Suggested Reading Age 3+
Other titles