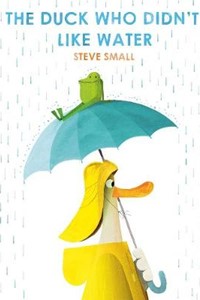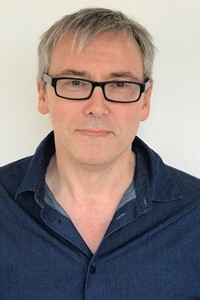 About Author
Steve Small has worked in animation for over 30 years as a director, designer, and animator. The work has varied from working on Disney features to designing and directing shorts, TV series, and commercials. He's the illustrator of I'm Sticking with You and the author and illustrator of The Duck Who Didn't Like Water. Steve lives in London and when he's not painting and drawing, you'll likely find him feeding the crows on Blackheath Common.
Author link
Interview
The Duck Who Didn't Like Water  (Simon & Schuster Children's Books)
April 2021
Look out for a lonely Duck, a Frog who has lost his way, and a friendship that changes both their lives... 
Steve Small, who illustrated Smriti Halls' I'm Sticking With You, has now written and illustrated his own book, The Duck Who Didn't Like Water, and here he tells us how his new picture book developed:
1.   What brought you into illustrating and creating picture books? Do you do other work?
I've always loved children's books. I trained in graphic design at Art School but decided to pursue a career in animation. Animation is hard work and often doesn't leave much time for anything else. The good thing is that the type of animation I do needs me to tell a story, and create a style of telling that story in an interesting way. I think that learning how to do this has often made me wonder about taking it into picture books.
2.   Where did you train in illustration?
I trained myself while working in animation.
3.   What for you makes a great picture book idea?
I like many different styles of stories. But one thing that is common to all of them is the opportunity to really connect with a character. That character might be completely different from you, or very similar. But either way, you relate to that character so much that you experience the events and their impact on the character as much as if it were you yourself experiencing them.
I know it seems obvious to say it, but the vicarious experience in storytelling is a fascination for me. It might give you a fun opportunity to be 'you' in a situation you will never experience in your own life. Or it might actually get you to understand something you are dealing with in real life from a new perspective.
4.   Can you tell us about your new picture book, The Duck Who Didn't Like Water?
This story is about a Duck who lives alone and unlike most Ducks, doesn't like water. One night (one of those dark, stormy ones) the Duck meets a very lost Frog. Duck sets about finding Frog's home and along the way, rediscovers what 'home' really means.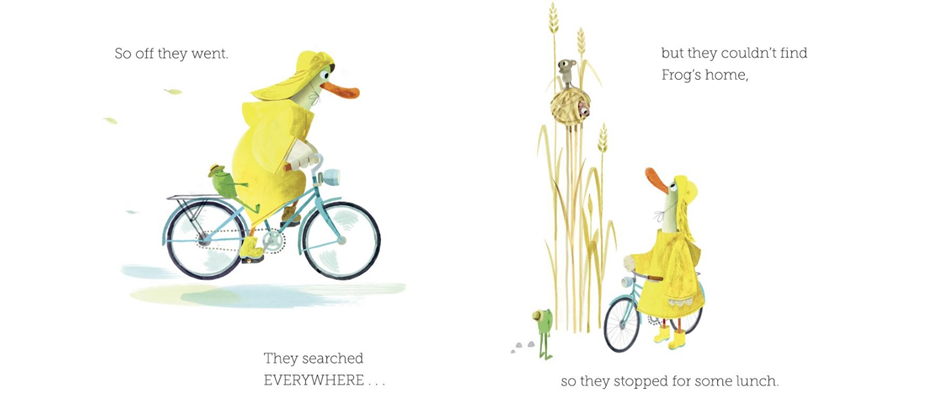 5.   Which comes first for you - the text or the images?
I'm still starting out in picture books, and so far it has been the text. But I have accumulated many small sketchbooks filled with ideas in sketches and notes for stories. Some exist as pictures only, waiting for the story to explain the, and others are written stories still wondering who they are about and waiting for the characters to appear.
6.   How do you decide what your characters - Duck and Frog - will look like, and how did their characters develop?
The Duck came first. I knew exactly what Duck looked like. A white duck, orange beak and feet. But it took me ages to figure out what Duck wore. Though I pretty much knew it was going to be yellow. Most weather proof gear seems to be yellow.
As for Frog, I like Frogs. There's something very enigmatic about them. I wanted us to be guessing this Frog's thoughts and feelings. Duck does all the talking, and Frog communicates volumes with just a 'ribbit'.
7.   How do you create your images?
I sketch in pocket size books and gradually expand them into layout ideas. Then when the story has been worked out, I paint all the elements and bring them into photoshop to compose and play with.
8.   How long does it take to complete a picture book?
Much, much longer than I think each and every time. It's something I only do in the evenings at the moment. It took a year to make The Duck Who Didn't Like Water. But I'm going to see if I can up the pace a little.
9.   Where and when do you do your best work?
When we all used trains, I used to scribble on my commute. Now I do my best thinking just before I go to sleep.
10.   Other than your computer, what's on your desk that you couldn't work without?
A lightbox. And ricecakes.
11.   Will we see more of Duck and Frog? What are you working on for your next picture book?
I hadn't actually thought about that. They are a fun couple. I'd like to check in with them again sometime and see how things progressed.
I've just finished a sequel to I'm Sticking With You by Smriti Halls and I'm currently illustrating my second solo book about a small Elephant in a Big world.
12.   What do you love doing most when you're not at your desk?
Walking, feeding the crows and eating good carrot cake.
Author's Titles