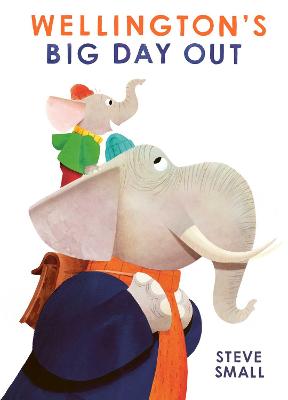 By Author / Illustrator
Steve Small
Genre
Picture Books
Age range(s)
5+
Publisher
Simon & Schuster Ltd
ISBN
9781471192371
Format
Hardback
Published
14-04-2022
Synopsis
Meet Wellington - the little elephant with BIG ideas - in this irresistible story about family and growing up from acclaimed picture book creator, Steve Small (illustrator of I'm Sticking With You).

When Wellington is given a new jacket exactly like Dad's for his birthday, at first he's delighted. But his delight turns to disappointment when he tries it on and it's far too big. And what if, Wellington thinks, - even worse! - it's not that the jacket is too big, but that he's too small? Well, Wellington's dad has a plan, and on an exciting day out that takes in a ride on the bus, a super-size strawberry sundae, a toot on a tuba and a visit to his grandad, Wellington learns that he's growing up exactly as fast as he should be - and just like his dad.
Find out more from author and illustrator Steve Small
Reviews
Elen
It's Wellington's birthday, and now he's a year older he's starting to feel much more grown up. Until, that is, he tries on his new birthday present - a smart blue jacket - and discovers that it's too big for him. Or is it that Wellington is too small?
Seeing his disappointment, his father takes Wellington to the tailor to fix the jacket but, along the way, find themselves eating ice cream, going on a bus ride and visiting grandad, where Wellington discovers that he isn't too small after all. In fact, he is just the right size.
This is a gentle story that explores an issue that many children do worry about - not growing up the way they should be - but also describes some lovely familial relationships, particularly Wellington's relationship with his grandfather who is the only one who can reassure him that he is growing up just as he should be.
The illustrations are really lovely, managing to convey all the movement and energy of the town as well as the quiet reflectiveness of the scenes between Wellington and his grandfather. The young elephant's expressions are perfectly pitched for the story.
This would be a lovely picture book to share with young children given its reassuring tone and message that we all grow up eventually, as well as the many details to share in the illustrations.
Picture book / Reviewed by Elen Green
Suggested Reading Age 5+
Other titles