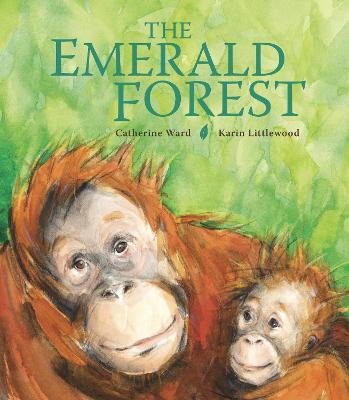 By Author / Illustrator
Catherine Ward, illus Karin Littlewood
Genre
Environment
Age range(s)
5+
Publisher
Otter-Barry Books Ltd
ISBN
9781913074142
Format
Hardback
Expected
16-02-2023
Synopsis
One day Orangutan heard a faint noise.
Hardly a noise at all - just a distant droning. Then there was a crash!
Smoke seeped through the canopy...
Orangutan and her family live in a vast emerald forest, bursting with life. She teaches her babies what food to eat, how to swing through trees, how to build a sleeping nest. Life is good... until one day a monstrous machine tears Orangutan's tree from the ground. The family have to leave the emerald forest - but where can they go to?
This powerful and moving picture book is set in tropical Sumatra, an island that has lost almost half its rainforest cover in recent years. The story graphically describes the reactions of an orangutan family to the destruction of their age-old home, but also shows how wildlife campaigners are bringing hope for the future.
Reviews
Wendy
The Emerald Forest is a beautiful picture book which can be enjoyed on many levels. It's the story of an orangutang family living an idyllic life in a Sumatran forest. Strange noises of machinery unsettle the family who keep moving further away from the destruction, until there is nowhere left to go. Fortunately a conservation worker rescues them and takes them to Thirty Hills National Park to live in safety with other rescued animals.
This book is a good introduction to many current issues; deforestation, wildlife extinction, climate change, conservation, as well as many emotions children will identify with; fear of change, threat to family security and compassion to help those who are more vulnerable than us. The fact that it is based on real-world events and that the Thirty Hills nature reserve really exists is a skilful bending of fact and fiction. Those children who are really inspired by it can go online and look up what the conservationists are doing in Sumartra and how they can help.
The book is simply written, so suitable for sharing with younger readers or for more fluent Key Stage One readers to access on their own. The jewel-like illustrations are gorgeous and help the reader immerse themselves in the glory of the emerald jungle. One for any classroom bookshelf, school library or a wonderful birthday gift for any environmentally-aware child.
Picture book / Reviewed by Kelly, teacher
Suggested Reading Age 5+
Other titles