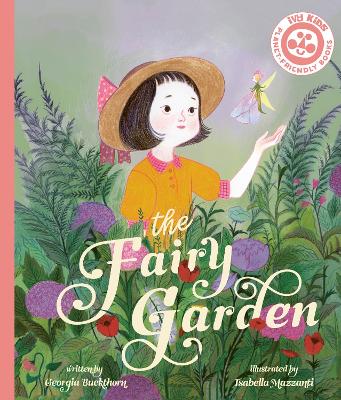 By Author / Illustrator
Isabella Mazzanti, Georgia Buckthorn
Genre
Environment
Age range(s)
3+
Publisher
The Ivy Press
ISBN
9780711271760
Format
Paperback / softback
Published
05-04-2022
Synopsis
Follow the enchanting, beautifully illustrated story of Mimi, a young girl who longs to see fairies in her garden.

Mimi was a perfectly ordinary girl who lived in a perfectly ordinary house. She had toys to play with, a little brother who wasn't too annoying, and cakes on her birthdays. Mimi didn't want many things. But there was one thing she wanted so very much, so very much indeed... to see a fairy in her garden.  Poor Mimi spends hours and hours making her fairy garden completely perfect, but the fairies never come. Whatever could she be doing wrong?  Just when she has given up all hope, some twinkling lights appear. They're here! And they are bringing an important message...

With captivating artwork from Isabella Mazzanti, and activity spreads at the back which tell readers how to create their own, perfect fairy garden this beautiful story will capture readers' imaginations.  And, just maybe, it will help them attract fairies to their own gardens!
Reviews
Jemma
The Fairy Garden is a gorgeous story about a young girl, Mimi, who longingly looks for fairies in her garden. She takes her time to ensure her garden is perfect; pulling out the weeds, getting rid of creepy-crawlies and making cute little houses just perfect for fairy folk. But they don't come and she begins to despair. Until one day, a twinkling light brings her a message; one of the importance of preserving the natural world.
This story is beautifully enchanting and provides an easily accessible way to begin talking to younger children about the importance of nature. My daughter was in awe at the dreamy illustrations which are bold and colourful, yet delicate and detailed. As soon as we both set eyes on the book, we knew it was one to read in outside, under the warmth of the sun.
The activities at the end of the book inspired us to plant wild flower seeds in a part of our garden and now my daughter is eagerly awaiting for the flowers to grow, in the hope fairies will follow. It has really captured her imagination.
Published by Ivy Kids (an imprint of Quarto Publishing), this book is made from 100% post-consumer waste recycled paper in the UK.
Picture book / Reviewed by Jemma Jeffrey, teacher
Suggested Reading Age 3+
Other titles