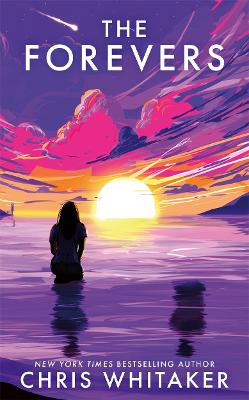 By Author / Illustrator
Chris Whitaker
Genre
Suspense & Thrillers
Age range(s)
14+
Publisher
Hot Key Books
ISBN
9781471410956
Format
Hardback
Published
08-07-2021
Synopsis
What would you do if you knew the world was going to be destroyed by a huge asteroid in one month? The mesmerising YA debut from the winner of the CWA Gold Dagger Award for Best Crime Novel 2021 and the New York Times bestselling author of We Begin at the End.They knew the end was coming. They saw it ten years back, when it was far enough away in space and time and meaning. The changes were gradual, and then sudden. For Mae and her friends, it means navigating a life where action and consequence are no longer related. Where the popular are both trophies and targets. And where petty grudges turn deadlier with each passing day. So, did Abi Manton jump off the cliff or was she pushed? Her death is just the beginning of the end. With teachers losing control of their students and themselves, and the end rushing toward all of them, it leaves everyone facing the answer to one, simple question... What would you do if you could get away with anything?
Reviews
Ruth
This brilliant YA book bluntly asks the reader: '30 Days Until The End Of The World - What Would You Do?' Despite the short period it covers, the story catapults the reader headlong towards catastrophe! The Forevers is part mystery and part romance whilst remaining a thriller at heart, and is recommended for older readers due to its themes of threat, violence, sex, alcohol and drug misuse.
An asteroid is rapidly approaching the Earth on a collision course which will wipe out humankind. The central character, Mae, her family and friends have to negotiate a world where time is running out and people no longer always choose to live by the rules. In the midst of increasing panic, a mystery surrounds the sudden death of Mae's old friend, Abi. Mae is determined to discover what really happened but she uncovers more secrets in the private lives of her fellow teen students and the local adults than they would wish to be made public.
Mae is a compelling character, not always likeable, complex and flawed. But she is dogged in her search for the truth and, following the death of their parents, is absolutely dependable in her care of and kindness towards her sister, Stella, who lost her sight at birth. Stella is a great foil for Mae as she represents all things good in the story, while the scientists' efforts to thwart disaster provide a backdrop to a world where time is ticking away.
Mae's group, 'The Forevers', grows as the story develops, offering the students something solid to hold on to. A highly recommended roller coaster of a read.
352 pages / Reviewed by Ruth Cornish, school librarian
Suggested Reading Age 14+
Clare
Gripping from the outset, Chris Whittaker's first book for young adults is a compulsive dystopian page-turner that charts the devastation, fear and disillusionment of a generation doomed to die by their 18th birthdays.
When seven-year old Mae hears a news report of an asteroid destined for earth, and due to strike in a decade's time, her prefect world is shattered. The death of her parents three years later compounds her misery but she determines to remain resolute and to look after her younger sister, no matter what the future holds. Whilst many in their community leave, disappear and commit suicide in an attempt to escape their destinies, Mae and her close friend, Abi, determine to create their own 'forever' and retain some control of their future. But as the children become teenagers and attempts to disrupt the course of the asteroid fail, the usual discord and rivalries emerge and petty differences threaten a fractious ending.
When Abi dies, having become estranged from Mae, Mae decides to revive the Forevers, and a growing band of disenfranchised teens join her as the countdown to the end enters its final days. What could and should be a depressing scenario is mitigated by the determination of a group of misfits to take back some control. Their empowering actions give this book a real sense of purpose and hope. Mae, her friend Felix and sexy newcomer, Sail are wonderfully written, rounded, engaging characters, and as the reader you are always rooting for them.
Despite the bleak forecast, and with the tension and tragedy always beset by humour and kindness, this is a compelling and hopeful book about the power of human nature, resilience and bravery. A brilliant and heart-breaking read.
352 pages / Reviewed by Clare Wilkins, school librarian
Suggested Reading Age 14+
Other titles