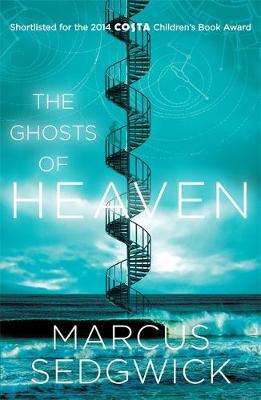 By Author / Illustrator
Marcus Sedgwick
Genre
Adventure
Age range(s)
11+
Publisher
Hachette Children's Group
ISBN
9781780622217
Format
Paperback / softback
Published
05-03-2015
Synopsis
Shortlisted for the CILIP Carnegie Medal 2016, this mesmerising and mysterious novel by Printz Award-winning author Marcus Sedgwick is written in four cleverly interlinked parts and can be read in 24 different ways. Spanning thousands of years, The Ghosts of Heaven can tell us a secret as old as time, about survival, discovery, and the effect of the spiral - a symbol that has no end - on all our lives.
It's there when a girl walks through the forest, the moist green air clinging to her skin. There centuries later in a pleasant green dale, hiding the treacherous waters of Golden Beck that take Anna, who they call a witch. There on the other side of the world, where a mad poet watches the waves and knows the horrors they hide, and far into the future as Keir Bowman realises his destiny. Each takes their next step in life. None will ever go back to the same place. The spiral has existed as long as time has existed. Follow the ways of infinity to discover its meaning.
Reviews
Dawn
Described as a novel in four parts, each part able to be read in any order, The Ghosts of Heaven describes essentially good people who are dragged into a spiral beyond their control. Their lives take unexpected paths, during which they discover more about themselves, although they struggle to understand the others who play their parts in destruction. The link is the spiral - an artistic symbol? A mathematical symbol? A symbol surrounding us in nature, art and science?
I struggled to understand some of the significance, but then does that matter? I took from this novel what was important to me. Another reader will latch onto what is important to them. Both of us can still enjoy the compulsive writing Marcus Sedgwick always, without fail, brings to his books and what makes a new novel from him something to which to look forward.
For ease of keeping track of my place in the book, I did read these sections 1 to 4. I read about the girl who should have been chosen, but could only follow behind, yet knows more than the boy who was chosen. I read about kind Anna, wanting something more than the work at Fuller's Mill, able to do more than that, but under suspicion for her powers of healing, as well as her looks. Then a doctor, trying to recover from the death of his wife, connects with a mad poet - or is it his daughter who makes the connection? Finally, into the future a scientist on a mission discovers all is not as it seems.
If time permits, the reader could read again in a different order and see different links. In fact, this novel can be read in 24 different combinations. A true crossover book, this story will generate discussions between old and young and do what we all love - get people talking books.
448 pages / Ages 13+ / Reviewed by Dawn Woods, school librarian
Suggested Reading Age 14+
Other titles