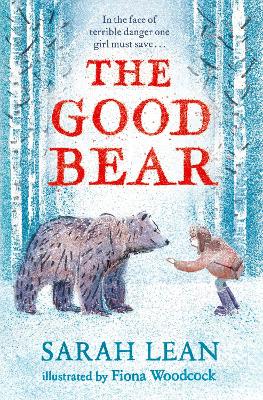 By Author / Illustrator
Sarah Lean, Fiona Woodcock
Genre
Friends and family
Age range(s)
9+
Publisher
Simon & Schuster Ltd
ISBN
9781471194658
Format
Paperback / softback
Published
28-10-2021
Synopsis
A story of friendship to treasure this Christmas . . .  From the bestselling author of A DOG CALLED HOMELESS, this is the perfect Christmas gift for fans of Michael Morpurgo, Lauren St John and Sara Pennypacker's PAX.

It's the Christmas holidays and Thea is looking forward to spending them with her father. She can tell him all about her plans to become a writer, and maybe he'll buy her the typewriter she's been dreaming of.  But when Thea arrives in snowy Norway, everything feels . . . wrong. Her father is as distant as ever and now she has to share him with his new family: his girlfriend Inge and her children. Then Thea makes a surprising discovery. Deep in the snowy woods by the house, is a bear. He's scared and hungry and he desperately needs Thea's help.  When the town hears about a bear living in the woods, Bear's life is in even greater danger. Thea needs to show everyone that he's not dangerous - he's a good bear - if she's to save him.

A gorgeous Christmas story for readers aged 9+ that will warm your heart and take you on an adventure you will never forget. Beautifully illustrated by award-winning illustrator Fiona Woodcock, the artist behind Abi Elphinstone's The Snow Dragon.

'A big, beautiful hug of a book and the perfect winter companion' Phil Earle, author of When the Sky Falls.  'A heart-warming story' Abi Elphinstone, author of The Unmapped Chronicles series
Reviews
Emma
The story begins on Christmas Eve where Thea is curled up with hot chocolate and a blanket telling her daughter the story of how she met 'The Good Bear.'
Thea lives with her mum in Britain and has not seen her father for four years as he now lives with his new family in Norway. Thea yearns to be a writer when she is older, borrowing her mum's typewriter to type out her thoughts and stories, she writes to her father asking him to buy one for her as a Christmas gift. However, this letter prompts a visit to Norway for Thea to spend Christmas with her Father.
Christmas in Norway is not what Thea anticipates, there are no Christmas lights or decorations and neither are there gifts under the tree. Thea struggles to bond with her father and his family and in exasperation, one day throws one of her boots she was given as a gift (they should have been a typewriter) away - hitting a tree which awakens a hibernating bear. The bear is old, was once trained as a dancing bear and has escaped captivity, and travels across the country seeking food and shelter.  The arrival of the bear prompts the small town to worry; they raise a search party to hunt him down, although unbeknownst to the inhabitants, the bear isn't dangerous at all.
The story is perfect for reading over the Christmas holidays, you can't help but feel engrossed in the description the author paints of being in wintery Norway. The reader feels empathy towards Thea, her lack of paternal bond with her family and her struggles with his new girlfriend and her children. There are simple but beautiful illustrations peppered throughout the page - just enough to add to the reader's imagination of the size of The Good Bear and Thea.
The book would appeal to upper KS2 readers who would be confident in navigating the text, but it would also be a wonderful book to share as a whole class read. There are many themes running through the pages, but overall, the themes of love, friendship, and honesty can spark many PSHE conversations. I would also use the text as the basis for a descriptive piece of writing - especially at the beginning of the book when Thea arrives in Norway or when she meets The Good Bear.
320 pages / Ages 9+ / Reviewed by Emma Nelson, teacher
Suggested Reading Age 9+
Other titles