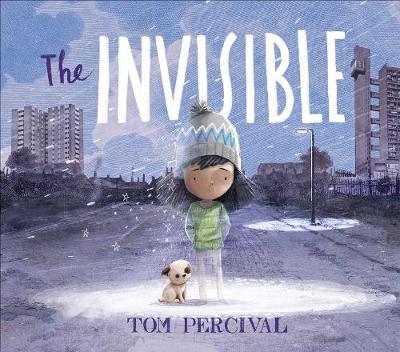 By Author / Illustrator
Tom Percival
Genre
Representation & Inclusion
Age range(s)
5+
Publisher
Simon & Schuster Ltd
ISBN
9781471191305
Format
Paperback / softback
Published
04-02-2021
Synopsis
A moving, powerful story that shines a light on those that feel invisible in our world - and shows us that we ALL belong - from the author of Ruby's Worry.

The Invisible is the story of a young girl called Isabel and her family. They don't have much, but they have what they need to get by. Until one day, there isn't enough money to pay their rent and bills and they have to leave their home full of happy memories and move to the other side of the city.

It is the story of a girl who goes on to make one of the hardest things anyone can ever make...a difference.

And it is the story of those who are overlooked in our society - who are made to feel invisible - and why everyone has a place here. We all belong.
Reviews
Kyle
With The Invisible, Tom Percival has created one of the most beautiful books I have read in recent years.  Centred around Isabel, a young girl who lives with her family, we are treated to a story that teaches us the important lesson that everyone in the world has a right to belong.

Isobel and her family don't have much but, as long as they have each other, then they know they will be truly happy. This is tested, though, when one day they have to uproot and move to the other side of the town. Away from the place she called home for so long and that was full of so many happy memories, Isobel soon realises that in the eyes of the any others, she is invisible.   This feeling will, I am sure, resonate with many readers - both old and young - and is the primary reason for there being such an emotional connection to this story. However, rather than letting her invisibility define her, Isobel soon finds a way to make herself shine again....and in doing so, changes the perception of her new neighbourhood, too.   
Throughout the text, the emotional connection between Isobel and reader is as strong as I have ever experienced from a picture book and you genuinely share every thought and feeling with her.  As we have come to expect from Tom, the text flows effortlessly from page to page without the need for rhyme and is accompanied by truly wonderful illustrations which perfectly capture the mood of each scene. Tom has a particularly soft illustration style which somehow still draws you in and I found myself lost in the pictures. I felt a similar way with The See Saw - another magnificent story by Tom.  The language Tom chooses from the very start is perfect for young minds to create their own images and allows the reader or audience to see what Isobel sees, hear what Isobel hears and feel what Isobel feels. With every word, you feel more and more invested in Isobel's life and you want nothing more than to see her happy.

This truly is one of the most beautiful texts I have read recently and is one I want to share with all children - regardless of their age. I can see this being used throughout my primary school alongside units of work as well as thought-provoking discussions and circle times.  Tom Percival has raised the bar once again.

Picture book / Reviewed by Kyle Matravers, teacher
Suggested Reading Age 5+
Other titles