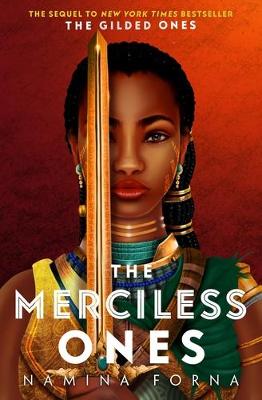 By Author / Illustrator
Namina Forna
Genre
Fantasy
Age range(s)
14+
Publisher
Usborne Publishing Ltd
ISBN
9781474959582
Format
Paperback / softback
Published
26-05-2022
Synopsis
The hotly anticipated, gripping sequel to bestselling YA fantasy The Gilded Ones. Set in an ancient West African-inspired world, this unmissable YA fantasy series is perfect for fans of Children of Blood and Bone and Black Panther.
It's been six months since Deka freed the goddesses in the ancient kingdom of Otera, and discovered who she really is... But war is waging across the kingdom, and the real battle has only just begun. For there is a dark force growing in Otera - a merciless power that Deka and her army must stop. Yet hidden secrets threaten to destroy everything Deka has known. And with her own gifts changing, Deka must discover if she holds the key to saving Otera... or if she might be its greatest threat.
The Merciless Ones is the second, thrilling instalment of the epic fantasy series in which a young heroine fights against a world that would dare tame her.  Praise for The Gilded Ones:  "Namina Forna could be the Toni Morrison of YA Fantasy" - Refinery 29; "The Gilded Ones redefines sisterhood and is sure to leave readers both inspired and ultimately hopeful" -Stephanie Garber, author of Caraval; "Debut author Namina Forna's created a fierce female protagonist you'll root for and a captivating world that feels so real you can step inside it" - Bookriot
See also: The Gilded Ones
Find out more from author Namina Forna
Reviews
Ruth
The much anticipated sequel to The Gilded Ones does not disappoint! We return to find Deka and her supporters battling to save their kingdom from dark forces. The fantastical ancient kingdom of Otera and the characters that inhabit this magical land are described by Namina Forna in rich detail.
The narrative is complex but engrossing and, like before, it is difficult to put down this follow-up. There are references to Africa and feminism weaved throughout this action packed power struggle and once again the chief protagonist has been thoughtfully and thoroughly developed as a character with depth and humanity. I was left wanting more and without spoiling anything, the scene surely has been set for another instalment in this epic fantasy adventure.
The Merciless Ones is recommended for upper school students as it contains violence and threat. Both this and the first novel would make excellent front facing books for dynamic shelving in a library and they would also make good summer reading recommendations. I am sure this will be as popular in the school library as the first book.
480 Pages / Reviewed by Ruth Cornish, school librarian
Suggested Reading Age 14+
Clair
I thoroughly enjoyed reading the Gilded Ones so was excited to receive a copy of the sequel, The Merciless Ones.
Namina Forna has created some strong female lead characters and this book begins six months later when Deka is working with the mother goddesses to rid the empire of the corrupt Jatu and their oppressive regime. The book opens with Deka finding four young female corpses mounted on stakes at the mouth of the jungle, left as a warning to other women of what will happen to them if they step out of line. A bitter reminder to Deka that the longer they take to eliminate the priests and the Jatu, the more the women of Otera will suffer.
As you would expect from her earlier novel, The Merciless Ones is action-packed, full of battles and intense scenes. It would seem that unbeknown to Deka, she has triggered a change of events when she freed the goddesses. The Jatu are enraged by her actions and the women of Otera are being killed in greater number and tortured even more severely than before. The Jatu appear to have gained more power, are able to revive themselves and are also protected by an ancient Oteran symbol which has a disabling effect on Deka.
As the story progresses, Deka grows into her powers and is a force to be reckoned with. Ixa also undergoes quite the transformation! The friends become suspicious of the mother goddesses and begin to question their loyalty.
I love that Namina Forna highlights discrimination in this series. The Gilded Ones was set in a world dominated by men and The Merciless Ones includes more LGBTQ+ characters. This book doesn't focus on relationships though, it concentrates more on the action.
If you enjoy fantasy fiction then this is a great read. The good news is that it has been left open for a third book in the series and I cannot wait for the next instalment. Content of note: violence, sexual assault.
480 Pages / Reviewed by Clair, school librarian
Suggested Reading Age 14+
Other titles