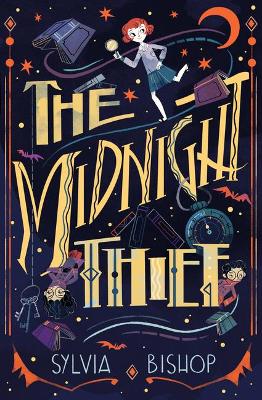 By Author / Illustrator
Sylvia Bishop, Flavia Sorrentino
Genre
Mystery & Detective
Age range(s)
7+
Publisher
Scholastic
ISBN
9780702301483
Format
Paperback / softback
Published
05-08-2021
Synopsis
\"An old-school (in every sense) yarn. Bishop pulls it off with humour and aplomb.\" Financial Times A captivating boarding school mystery from Sylvia Bishop, author of Erica's Elephant, The Bookshop Girl and The Secret of the Night Train. Transplanted from her exciting life as an explorer's daughter, Freya finds herself miserable at a posh boarding school. Freya hates all the boring rules, the other girls are mean to her, and the headmistress is frosty good manners personified. When a bat removal expert is called in to deal with an infestation, Freya meets his irrepressible children - and finds herself making friends at last. Together they explore the city, with particular interest in the grand exhibition showing priceless artefacts for the first time. When the objects are stolen in a dramatic heist, Freya is sure her new friends are responsible - but the true culprit might be closer to home... Warm, witty and packed full of gorgeous characters, this is a boarding school mystery with a twist. Perfect for fans of Robin Stevens' Murder Most Unladylike series Sylvia Bishop is the author of The Bookshop Girl, The Secret of the Night Train, and Erica's Elephant
Reviews
Jane
Freya wouldn't be at Throgmorton's School for Girls if her father hadn't found the 7 Elrida Dragons of Anglo-Saxon legend. She wouldn't be there if she'd had the choice. But her father loved her and wanted her to have a good education. He also wanted her to have his keys so she could hand them in for safekeeping. That she didn't do so led to Freya being suspected of stealing said dragons. But then, most of the staff were a bit suspicious.
Miss Henderson and her scatty sister, Miss Henny, Miss Richards, Mrs Clod, Miss Timms. Who was the true culprit? And would the missing treasures be recovered before the party to be held in her dad's honour? Perhaps, with a little help from batty twins Esmie and Daniel, among other unlikely people. It was going to be hard piecing together all the clues and even harder convincing a certain police officer that bats really were up to such a crime. However, as we read in the chapter interludes, there's a lot about bats (and other wild animals) that goes unnoticed and unappreciated by humans. Maybe they were up to something after all.
Children of 7 and upwards who love a good puzzle, especially one populated by amazing animals and some very strange people (grown-ups and children) will enjoy The Midnight Thief. There's much to make the reader smile - not least the illustrations- as well as the occasional nugget of wisdom. There's also the satisfaction of greedy, hurtful plans thwarted and nice guys rewarded. Well done that author!
304 pages / Reviewed by Jane Rew
Suggested Reading Age 7+
Other titles