The Monster Who Was Scared of Soap: A Bloomsbury Young Reader: Gold Book Band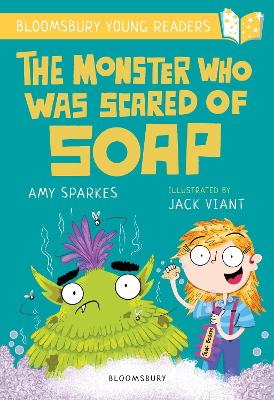 By Author / Illustrator
Amy Sparkes, Jack Viant
Genre
Early Readers & Young Fiction
Age range(s)
5+
Publisher
Bloomsbury Publishing PLC
ISBN
9781472994547
Format
Paperback / softback
Published
09-06-2022
Synopsis
'Every child needs a Bloomsbury Young Reader.' (Julie-Ann McCulloch, Teacher)Gold Book Band. Ideal for ages 6+.
A laugh-out-loud, zany tale about monsters, friendship and bath times, ideal for children practising reading at home or in school.Gerald the monster HATES baths. Being all washed and clean? Yuck! So Gerald's mum hires Maggie, a professional monster washer, to help. Can Gerald learn to have fun at bath time? This hilarious story from Amy Sparkes is perfect for Key Stage 1 (KS1) children who are learning to read by themselves. It features colour illustrations by Jack Viant and lovable characters that children will easily relate to.Bloomsbury Young Readers are the perfect way to get children reading, with book-banded stories by brilliant authors like Julia Donaldson and Sarah Crossan. With gorgeous colour illustrations, tips for parents and fun activity ideas to help children get the most out of stories, this series is ideal for home and school. Guided reading notes written by the Centre for Literacy in Primary Education (CLPE) are available at bloomsburyguidedreading.com. 
Reviews
Lizi
As young readers books go, this is a great one! Part of the 'Bloomsbury Young Readers' series, The Monster Who Was Scared of Soap is split into chapters, has fab pictures on every page and is written in a good sized font for readers who are gaining skills and confidence.
Gerald is a monster who will not have a bath, until one fateful bath day when his mum has recruited help in the form of a child...eek!  Maggie has lots of surprises to make sure that Gerald loves his bath...and he does! I'm sure that many children will be able to connect with Gerald's story and the humorous way it's written keeps this book engaging throughout.
Bloomsbury has aligned it as a 'gold' book band; it's definitely for children who have good phonic knowledge (in old money, confident with phase 5 on letters and sounds!).  There are 'tips for grown ups' inside the front cover and activities to follow up with after reader at the back.
I think this book is a great introduction to chapter books; each chapter is about 8 pages long with each page being (on average) half a page of text. It's a good book for reluctant readers, who I'm sure will love Gerald, and would be a nice one to read as a class book too!
48 Pages / Reviewed by Lizi Backhouse, teacher
Suggested Reading Age 7+
Other titles