The Monsters of Rookhaven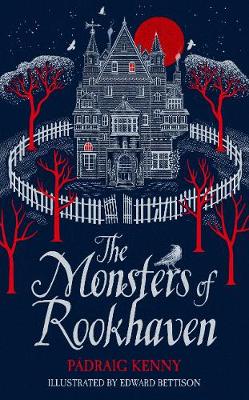 By Author / Illustrator
Padraig Kenny, Edward Bettison
Genre
Friends and family
Age range(s)
9+
Publisher
Pan Macmillan
ISBN
9781529050509
Format
Hardback
Published
17-09-2020
Synopsis
Sometimes the monsters take us. Sometimes we become the monsters.

Mirabelle has always known she is a monster. When the glamour protecting her unusual family from the human world is torn and an orphaned brother and sister stumble upon Rookhaven, Mirabelle soon discovers that friendship can be found in the outside world.  But as something far more sinister comes to threaten them all, it quickly becomes clear that the true monsters aren't necessarily the ones you can see.

A thought-provoking, chilling and beautifully written novel, Padraig Kenny's The Monsters of Rookhhaven, stunningly illustrated by Edward Bettison, explores difference and empathy through the eyes of characters you won't want to let go.
'A magnificent, shadowy, gothic adventure full of heart' Emma Carroll
'A wildly imaginative story . . . a triumph' Irish Examiner
Reviews
Julie
Set at the end of World War II, brother and sister Tom and Gem find themselves orphaned and on the run. They have been moving from town to town, having had to escape from their cruel and wicked uncle. They are now doing whatever they can to survive.

Whilst on the run they find themselves lost and alone in a dark forest. Cold, sick and frightened they try to find shelter for the night. As they wander the forest they are drawn to a large manor house. Unbeknown to Tom and Gem, the magical shield or 'glamour' that surrounds the manor house has been torn. This shield has been protecting the mysterious family that lives inside Rookhaven for centuries.

The children are quickly discovered by one of the residents of the manor; the kind and caring Mirabelle. Against her family's wishes, Mirabelle must persuade them that the right thing to do is to take care of the children until their health is restored. Mirabelle soon becomes friends with Tom and Gem. Whilst Mirabelle's family life is very unlike anything the children have seen before - her family members are, shall we say on the monstrous side - they all make the effort to take care of Tom and Gem during their time of need.

Meanwhile, in the nearby village a stranger has arrived. The sinister and manipulative Mr Pheeps who will, by all means necessary get into the manor at Rookhaven to get what he wants.

This novel is stunning. I absolutely loved it from the very first page. Kenny has created an amazing plot that will take the reader on a wonderful journey, full of chills, twists, turns and surprises. His use of multiple narrators is just perfection. This allows the reader to begin to understand the many complex characters that inhabit this weird and wonderful gothic world.

It also allows us an insight into each of the individuals' own personal feelings and worries. From the outside, these beautifully drawn characters may look like monsters but deep down they have thoughts and feelings and worries just like 'normal' human beings.

Bettison's illustrations are beautiful and they really enhance and bring to life this powerful story.

The Monsters of Rookhaven is wonderfully dark, with lots of thrills, chills and with some amazing and grotesque monsters to boot. However, it is also a novel that is moving and thought-provoking. It is a tale about loss, friendship and trust. A superb read just in time for those cold, dark winter nights. I cannot recommend this book highly enough.

352 pages / Reviewed by Julie Broadbent, school librarian
Suggested Reading Age 9+
Jacqueline
Tin, Padraig Kenny's first book for children, ranks as one of my all-time favourites, so with each subsequent book by him I've been on tenterhooks to see if I like it as much. He does not disappoint with this one.

Brother and sister Tom and Jem stumble across a strange house in the village of Rookhaven. They are taken in and sheltered by the inhabitants, who turn out to be monsters; their unusual 'family' previously protected by a 'glamour' that now appears to be failing. Jem makes friends with one of the family, Mirabelle; both of them have never experienced friendship before. But something far worse is coming that threatens them all, something that could destroy the careful balance between the monsters and the human villagers who live nearby.

This book is both brilliant and terrifying in equal measure. The reader is quickly invested in the lives of the two children and the monster family, but from the beginning you are on edge, not knowing how the characters will act and react to each other. The lines between human and monster begin to blur, and you are not sure whether one is more monstrous than the other.

Some of the horror is neatly managed by the superb illustrations of Edward Bettison. The monsters are not so monstrous when shown in illustration, but the darkness is captured, particularly by the black pages with white font and drawing.

Padraig Kenny says, in the author's notes, that he has always loved monsters and it shows. It is so well written and his love of monsters is on display for all to see. The tension builds, and as it does, we learn more about the monsters and they become less terrifying and more complex. By the chilling climax this becomes an impossible book to put down and the ending is particularly satisfying.

This is not for the fainthearted reader, but it is absolutely excellent and older readers (Upper KS2) would really enjoy it and the gothic story it tells. I was also very excited to hear there is a sequel in the pipeline; apparently even more scary!

352 pages / Reviewed by Jacqueline Harris, teacher
Suggested Reading Age 9+
Other titles