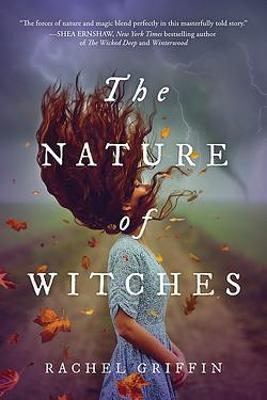 By Author / Illustrator
Rachel Griffin
Genre
Fantasy
Age range(s)
14+
Publisher
Sourcebooks, Inc
ISBN
9781728245287
Format
Paperback / softback
Published
01-07-2021
Synopsis
In a world where witches control the climate and are losing control as the weather grows more erratic, a once-in-a-generation witch with the magic of all seasons is the only one who can save earth from destruction. But as her power grows, it targets and kills those closest to her, and when she falls in love with her training partner, she's forced to choose between her power, her love, and saving the earth.
For centuries, witches have maintained the climate, but now their control is faltering as the atmosphere becomes more erratic; the storms, more destructive. All hope lies with Clara, a once-in-a-generation Everwitch whose magic is tied to every season.
In Autumn, Clara wants nothing to do with her power. It's wild and volatile, and the price of her magic--losing the ones she loves--is too high, despite the need to control the increasingly dangerous weather.  In Winter, the world is on the precipice of disaster. Fires burn, storms rage, and Clara accepts that she's the only one who can make a difference.  In Spring, she falls for Sang, the witch training her. As her magic grows, so do her feelings, until she's terrified Sang will be the next one she loses.  In Summer, Clara must choose between her power and her happiness, her duty and the people she loves...before she loses Sang, her magic, and thrusts the world into chaos.
Reviews
Linda
This is a thought provoking , unique debut story that involves the real changes in our climate, mixed with the fantasy of magical witches - and trust me, it works. 17 year old Clara is an Ever witch, which means that her rare magic is tied to the four seasons of nature. Normally witches are only tied to one season, this is when their magic is strongest. Due to the climate change crisis, the seasons are unstable and they are unable to maintain the natural balance causing deaths amongst this magical clan. Who can help them? Is Clara the answer, will she be able to use her power to save the witches from extinction and help put nature into balance once again?
Clara, however, is a reluctant Ever; her power seeks out the people that she loves and is unpredictable. So far it has caused the death of her parents and her best friend. How can she trust in something that takes so much away? Due to this devastating side effect of her power she lives in isolation and doesn't invite close relationships as she is scared that she will destroy someone else. However, her teachers will not leave her alone and push her into unwanted challenges to help her trust and release her power. This is where Sang enters the plot! Sang is a Spring witch, he is placed with Clara for training sessions so that he can hopefully bring a calm presence when she calls on her magic. Will this work? Will this be a relationship that will cause her downfall or help her realise her full potential?
The Nature of Witches is suitable for the 14+ reader. Also, due to the issues raised within the book it would also be suitable for book clubs as there are so many avenues for discussion. This is, sadly, a stand alone story that will have many readers YA or adult totally engaged. From the epigraphs at the beginning of each chapter, for reminding the reader about the wonder of each season to its heart wrenching romance, this is, in my opinion, a wonderful, thought-provoking book which will stay with the reader long after they have read the last page.
Suggested Reading Age 14+
Other titles