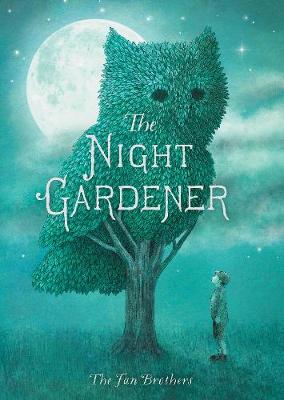 By Author / Illustrator
Terry Fan, Eric Fan
Genre
Adventure
Age range(s)
5+
Publisher
Frances Lincoln Publishers Ltd
ISBN
9781786030412
Format
Paperback / softback
Published
04-01-2018
Synopsis
Get lost in the imaginative world of the Fan Brothers: a place you'll want to revisit again and again.

\"Something was happening on Grimloch Lane. Something good.\"

One day, William discovers that the tree outside his window has been sculpted into a wise owl. Each day, more topiaries appear, each one more beautiful than the last. Soon, William's grey little town is full of colour and life. And, though the mysterious night gardener disappears as suddenly as he appeared, William and his town are changed forever. With breathtaking illustrations and spare, sweet text, this masterpiece about enjoying the beauty of nature is sure to become an instant classic.

A best-selling picture book about an orphan whose life is transformed by a mysterious night gardener bringing colour and life to his town.
Reviews
Marie
Normally when you open a book, you pass the first couple of pages where the publishing details are etc... But before you open the Night Gardener it is really important to read the pictures from page 1 (where all the boring info is printed on the road). Look at this page carefully and study what Grimloch Lane might be like? The next two pages, too - look at the old man and the boy sat on the log - what is he drawing in the grass? Who is the old man, why has he got all those cutting tools? Then the story begins...The Night Gardener is just fabulous. William, a small orphan boy, wakes one morning to find that a Topiary Owl has appeared outside the orphanage where he lives. (Do you remember what William was drawing in the grass?) As each day unfolds a new surprise appears and with each new sculpture come a curiosity of Grimloch Lane and happiness begins to grow in the street. People begin to come together joined with excitement and anticipation as to what will come next. As the story builds, William follows a stranger one night to the park where he meets the Night Gardener. Here, he helps the Night Gardener create the next sculpture and in the morning as he wakes by the tree, he finds a sent of hedge cutters with his name on them. All the villagers come out to see the work that William and the Night Gardener have done and everyone is happy. And even though over time the autumn comes and blows the leaves of every sculpture away, the happiness they had left in the town stays forever. William also is forever changed and a new career forged for this once unhappy orphan. If you're a Power of Reading lover, then this book will be a great addition to your school library. One I will certainly be using in the future. Picture book / Ages 5+ / Reviewed by Maria Berry, teacher.
Suggested Reading Age 5+
Other titles