The Night I Met Father Christmas: THE Christmas classic from bestselling author Ben Miller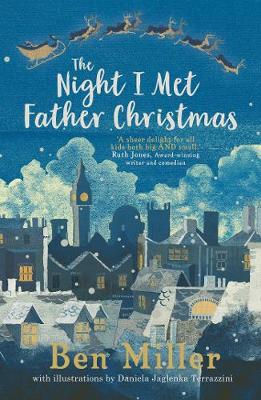 By Author / Illustrator
Ben Miller, Daniela Jaglenka Terrazzini
Genre
Adventure
Age range(s)
7+
Publisher
Simon & Schuster Ltd
ISBN
9781471171536
Format
Hardback
Published
01-11-2018
Synopsis
'A gorgeous tale brimming with the magic of Christmas. A sheer delight for all kids both big AND small.' Ruth Jones, award-winning writer and comedian
'Enchanting, funny and intriguing in equal measure' Philip Ardagh, bestselling author
'You can always tell when a children's book has been written by a brilliant father because there's a particular intimacy, warmth and mischievous humour that bubbles through it ... irresistible' Alexander Armstrong, presenter, comedian and writer

Jackson knows all about the flying reindeer, he knows about the elves and the secret North Pole workshop, he knows about the magic that allows Father Christmas to deliver presents around the world in just one night, but there's one thing he doesn't know ... how did Father Christmas become Father Christmas?

That all changes when, one Christmas Eve, Jackson meets Father Christmas and hears his incredible story.

So begins an enchanting fairy-tale into a magical snowy landscape, where Torvil, a mean-spirited and miserly elf, is about to discover the true meaning of Christmas. This might not have been the story Jackson was expecting but, as Father Christmas tells him, no good story ever is...

Get ready for a Christmas classic in the making from actor and comedian Ben Miller with beautiful illustrations throughout from emerging talent Daniela Jaglenka Terrazzini, that will remind everyone of the true spirit of Christmas and prove once and for all that Father Christmas really does exist!
Reviews
Lucy
Perfect for snuggling up by the fireside this season, enjoy the tale of Jackson as he hears the real story of Father Christmas. Jackson knows all about the North Pole and the reindeer, but is desperate to have one question answered - how did Father Christmas become Father Christmas? So one Christmas Eve he stays up late, and finds himself hearing the tale from the man himself! Without giving too much away, Father Christmas is not who he seems at first and has a heart-warming tale to tell. As Jackson accompanies the great man circumnavigating the globe in his sleigh, delivering presents in magical time, he finds out some of the trade secrets, (how does he cope when there is no chimney?) but also finds out their origins - ever wondered why it is a stocking at the end of the bed? The story is also loose reworking of Charles Dickens's A Christmas Carol for the modern child. This is sure to be a read-aloud delight for the whole family. Miller's prose rolls off the tongue smoothly and the atmospheric black and white drawings by Daniela Jaglenka Tarrazzini enhance the fairy-tale atmosphere. At 284 pages, this would be best read aloud to younger children who will certainly still enjoy the story, with its depiction of magical creatures in the frozen north, and there is plenty to talk about together as the character undergoes his transformation from scrooge to benefactor. Adults and older children will enjoy spotting the familiar characters, redrawn in Miller's world, and older children will find it a satisfying tale to read alone. So buy a copy for your family, switch off the TV and enjoy some magical family time together this Christmas! 304 pages / Ages 7+ / Reviewed by Lucy Russell, teacher.
Suggested Reading Age 7+
June
Jackson is worried. His friend has expressed doubts about the existence of Father Christmas. Now Jackson is not worried that Father Christmas might not exist (he is firmly convinced that he does) but he is worried about the practicalities of present delivery, chimney negotiation and why Father Christmas does what he does. So, on Christmas Eve, Jackson stays awake and, sure enough, who should arrive, chaotically and noisily, but Father Christmas. In his surprise at seeing Jackson, however, Father Christmas twists his ankle and therefore enlists Jackson's help in delivering presents throughout the world. In exchange, he promises to tell Jackson the story of how he became Father Christmas as they fly around the world. There follows a tale of sadness, misunderstanding, pride and redemption as Torvil Christmas recounts his story and his meetings with a reindeer showing him his past, a fir tree showing him his present, and a giant snowman showing his future. The parallels with Dickens's A Christmas Carol are quite clear throughout this book; Torvil even has one solitary, over-worked and much abused employee with a sick child. Older readers will, therefore, be very familiar with the moral of the story but this text may be more accessible to younger readers, updated as it is to current times, than the Dickens' original. The chapters of the story are reasonably short, weaving between Torvil Christmas's tale and the progress of Jackson and the sleigh around the world. There are beautiful black and white illustrations scattered throughout the book, providing natural breaks for discussion - this feels very much like a bedtime read throughout the build up to Christmas, to be enjoyed by both adult and child. Though not a funny book, there are flashes of humour, particularly from Rudolph, who clearly has a problem in accepting instructions from an authority figure. The conversations with Jackson, as Torvil recounts his story, also serve to provide plausible explanations of how presents are delivered all around the world by one man in such a short space of time and also why he does it in secret, expecting no thanks. This is such a heart-warming story, both despite and because of its familiarity, beautifully told and illustrated, that it is bound to be popular with young readers and their parents. 304 pages / Ages 7+ / Reviewed by June Hughes, school librarian.
Suggested Reading Age 7+
Other titles