The Notorious Scarlett and Browne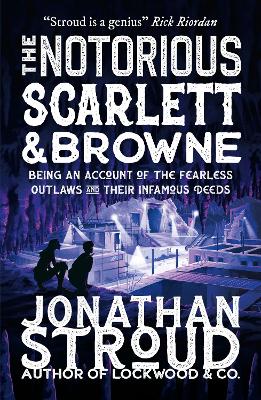 By Author / Illustrator
Jonathan Stroud
Genre
Dystopian
Age range(s)
11+
Publisher
Walker Books Ltd
ISBN
9781406394825
Format
Paperback / softback
Published
07-07-2022
Synopsis
A fast-paced fantasy adventure set in a broken, future England, following the further exploits of the outlaws Scarlett and Browne.  

Scarlett McCain and Albert Browne have outwitted their pursuers and escaped into the wilderness once more, and it's not long before they become famous for their audacious heists across the Seven Kingdoms. Yet neither is fully able to escape the shackles of the past - as they discover when a dangerous job turns sour.  Soon old enemies and sinister new threats are pressing in on every side, and Scarlett and Browne must pull off an impossible mission and strike out against The Faith Houses and the Brothers of the Hand if they are to save the people they hold most dear.

Praise for The Outlaws Scarlett and Browne:  "You won't be able to put this down. A classic in the making." - Eoin Colfer.  "Perfectly paced, beautifully written and bursting with black humour and bold ideas." - Philip Reeve.  "Scarlett and Browne is phenomenal, unputdownable storytelling of the highest order." - Piers Torday
Reviews
Stephen
The Notorious Scarlett and Browne, the second instalment of the exploits of Scarlett McCain and Albert Browne, finds them in a more reflective mood, but with danger and adventure as deadly as ever and the stakes even higher! For six months, Scarlett and Albert have been working seamlessly together performing daring acts of robbery and heists, leaving them wanted in even more places across the Seven Kingdoms! After striking at the heart of a Faith House in Warwick, robbing it of its riches and evading capture, all should be well. But pulling of heist like this makes them more wanted than ever as Scarlett finds out while taking 'down time' for a spot of gambling. People from her past are looking for her and Albert, and want them to do something for them. Failure to do so will result in death of their friends, Ettie and Joe. And the task? Rob the impenetrable mines of Ashtown for treasure. As Scarlett and Browne take on their most dangerous mission, failure can't be an option - can it?
This is a welcome return to the Seven Kingdoms and the feisty character of Scarlett and the more chilled Albert. The language is as sharp, witty and entertaining as ever, and it is clear both have matured and are now working together as a tight unit! The descriptions of their heists and daring exploits are expertly brought to life by Jonathan Stroud's brilliant writing and several events left me literally breathless.
It was great to learn more about our main characters in this adventure, especially our fantastically feisty heroine Scarlett's back story, which is the focus of the short stories at the beginning of each book section. Albert is also more confident and aware of his abilities and his mind reading is more highly attuned, but he is still struggling to control and exploit his other power, much to Scarlett's disgruntlement! We also find out information about the mysterious and all powerful Faith Houses and the even shadier Brothers of the Hand that Scarlett has been involved with. The great cataclysm remains very much a mystery in this story, though a few hints are given to its possible origin, which surprised me!
There is action a-plenty and the heist at the Faith House is gripping reading. The Tainted (cannibalistic mutated humans) are involved in one of the best action scenes of the novel in the mines of Ashtown - sensational! More of the creatures and monsters would have been fun to see. Several are mentioned, few are seen.
While the action, adventure and mysteries remains high octane, the pace of the novel is not as continually pulsating as the first, there are definitely more reflective periods for our characters. This is perhaps no surprise considering some of the situations they find themselves in - they are pushed to the edge of survival. And the action when it happens explodes of the page. There are new characters in the novel and Mallory, a former Stonemore protégé like Albert, is one of the best. Stealth like, cool as the proverbial cucumber and deadly - and he will have a huge impact on the lives of our adventurous duo. Another new aspect I thought worked brilliantly in the novel was the pamphlets that had been printed of the exploits of Scarlett and Browne. While comments on them and extracts appear, it would have been brilliant to have one reproduced in full in the novel.
I really enjoyed this novel. It's full of excellent adventure with two great swashbuckling characters, in a land where there is still so much left to explore and find out about. Roll on the next novel in the series!
400 pages / Reviewed by Stephen, school librarian
Suggested Reading Age 11+
Other titles