The Outlaws Scarlett and Browne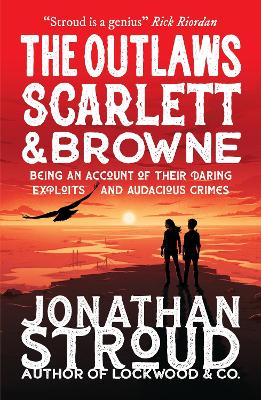 By Author / Illustrator
Jonathan Stroud
Genre
Dystopian
Age range(s)
11+
Publisher
Walker Books Ltd
ISBN
9781406394818
Format
Paperback / softback
Published
01-04-2021
Synopsis
Set in a broken, future England, where gunfights and monsters collide, this is the exciting first title in a phenomenal fantasy teen series by bestselling children's novelist Jonathan Stroud.  England has been radically changed by a series of catastrophes - large cities have disappeared and London has been replaced by a lagoon. The surviving population exists in fortified towns where they cling to traditional ways, while strangely evolved beasts prowl the wilderness beyond.  Conformity is rigidly enforced and those who fall foul of the rules are persecuted: some are killed, others are driven out into the wilds. Only a few fight back - and two of these outlaws, Scarlett McCain and Albert Browne, display an audacity and talent that makes them legends.
Q&A plus Video with Jonathan Stroud
Reviews
Maddie

- Age 13
When I first read the blurb, I wasn't sure if I was going to enjoy The Outlaws Scarlett & Brown because of the setting, but when I started reading it I began to really enjoy it! It is about a very aggressive girl called Scarlett who lives in the dangerous, wilderness-filled Britain quite a few years in the future. During this time there are a small number of small, and very strict, towns who only accept people with no faults to live in them so banish any babies with 'abnormalities' from a birth mark to missing limbs.
Scarlett hates these towns and all of their rules and punishments so chooses to do the seemingly impossible and live as an outlaw, fending for herself against all the beasts and people that want her dead, by mastering the arts of shooting and knife work, and by robbing banks. One day she comes across a bus wreckage and decides to explore inside looking for any money left behind in the bus from the passengers who were traveling in there before it crashed. But as well as money, she finds a boy called Albert Browne who would bring on more enemies and fights than Scarlett could have guessed by looking at his weak, uninteresting stance. But he seems to be hiding something about his past and his talents that Scarlett becomes intrigued by.
I really enjoyed reading this book, from the plot and fights to the characters. The author makes all of the characters seem very real and does very well at making you feel towards them the same way Scarlett does, even though it is sometimes written as if the reader is seeing how Albert is seeing. Throughout the novel, Albert's past and mysterious gifts are entwined throughout and you are desperate to find out all the secrets he is hiding, and who the strange blonde woman is he is so afraid of.
I would recommend this book to anyone who likes dystopian fiction, and enjoys the tension of lots of fighting.
Suggested Reading Age 11+
Clare
A new series from Jonathan Stroud is always an event and this explosive new book is no exception. The Outlaws Scarlett & Browne is set in a bleak future Britain formed of seven disparate kingdoms - it's a place where mutant creatures roam the wilds and fortified Towns are closely guarded by Faith Houses - suspicious of visitors and uncompromising in their dealings with them.

Skirting the kingdoms is Scarlett McCain - a bandit, thief, and, when necessary, killer. Surviving on her wits, some pretty neat acrobatics and a mastery of deadly weapons, she robs banks to fund her itinerant lifestyle. Wanted, and owing a debt to the shadowy Brothers of the Hand, she is on the run when she encounters the peculiar Albert Browne.

Considering him next to useless, she is amazed when - fleeing from her latest escapade - Albert aids their getaway by annihilating their pursuers. Albert's story turns out to be a terrifying one and he and Scarlett form a tentative partnership as they seek refuge in the 'Free Isles'.

This series is not for the faint-hearted. Albert's backstory is horrifying, and you stop counting the bodies after a while. But Stroud writes with such a light touch and intersperses the high tension with humour in a way that counterbalances the violence.

Although Scarlett is the protagonist in the first of this series, I think it is the vulnerable but increasingly purposeful Albert who readers will fall in love with. This book is pure entertainment - thrilling from the word go and although it seems aimed at a YA audience, I think mature younger readers will be eager to get their hands on it. A must read.

394 pages / Ages 12+ / Reviewed by Clare Wilkins, school librarian
Suggested Reading Age 11+
Stephen
The Outlaws Scarlett & Browne is the latest romp of an adventure from Jonathan Stroud, author of Lockwood & Co and the Bartimaeus series of books. Set in a future Britain after The Great Cataclysm has altered the environment and landscape, where towns have a decidedly frontier feel about them and pigeon post is seen as high tech, the story follows Scarlett McCain, a feisty, independent teenager wanted in 20 towns, who lives on her wit and instinct and will shoot first and ask questions later to survive in a desolate world.
After robbing a bank in Cheltenham to get funds to pay a debt, Scarlett heads to the nearby woods to evade capture and move to the next town. Along the way she discovers a crashed bus and decides to search it for anything useful - and discovers the only survivor, Albert Browne, a helpless looking boy hiding in the bus toilet. Albert hides secrets, secrets that will put both their lives in danger. Together they go on the run across a Britain fragmented and dangerous to survive, where remaining outside the towns and cities wolves, the Tainted and Spear-head birds lie in wait for you, and inside you may be killed for being 'different' from the norms set by the Faith Houses - and for being an outlaw!
What are Scarlett and Albert running from, who is the mysterious Dr Calloway, what are the dark secrets Albert hides and will they change the course of Scarlett's life forever?
Scarlett & Browne is an absolutely brilliant and exciting read, fantastically written by Jonathan Stroud. From the opening paragraph I was captivated and pulled right into the story and its main character, Scarlett. In Scarlett the author has created an independent, feisty character who is more than capable of looking after herself, with wit and insight as sharp and focused as her shooting abilities! She is an outlaw with a complex character with flaws and secrets and regrets but does what she has to in order to survive in a world she doesn't fit in to. She's quite Machiavellian, too, making her all the more dangerous!
Albert at first appears to be a very different character altogether. While appearing at first to be a weedy wet blanket of a boy, in such contrast to Scarlett, their differences really start to complement each other and it was great to see how this developed as the story progressed. And differences and contrasts feature strongly in this novel. A landscape of familiar places and names yet altered due to the events of the Great Cataclysm (which remains a bit of a mystery event).
There are the differences in Scarlett and Albert, which put both their lives in danger if discovered in the towns, as they are different from the norms set by the Faith Houses who have a heavy influence on control of society. Differences mean death if they are discovered or ostracised from society at least. Stroud certainly leaves us with food for thought and many readers will relate to feeling different and being treated like an outsider. Differences make this novel the brilliant story it is, as they do for society.
I found the pace and sense of mystery and adventure pulsated across the pages, and the encounter with the Tainted at the old fort left be breathless! The drama just keeps on coming. A feature I also enjoyed is at the beginning of each section of the book (there are four) we get a few pages which tell more of Albert's story, about what has happened to him in the past, which adds another level of intrigue and interest. Stroud's descriptive language is flawless. I found I had just the right level of detail that I was able to build the towns and landscapes in my mind without it slowing down the story. The descriptions of the travels along the Thames, especially the muddy reedy estuary are excellent!
I highly recommend this book, and I hope you enjoy reading this riveting novel, full of adventure and great characters as much as I did. This is a book not to be missed!
394 pages / Ages 12+ / Reviewed by Stephen Leitch, school librarian
Suggested Reading Age 11+
Other titles