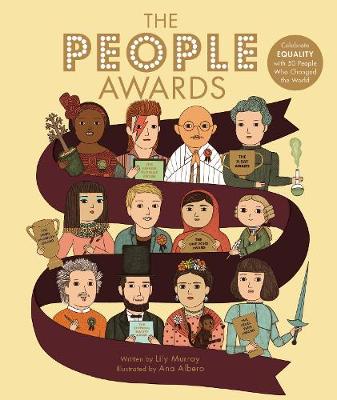 By Author / Illustrator
Ana Albero, Ms. Lily Murray
Genre
Adventure
Age range(s)
7+
Publisher
Frances Lincoln Publishers Ltd
ISBN
9781786030634
Format
Hardback
Published
09-08-2018
Synopsis
Celebrate equality with this beautiful book of biographies featuring fifty historical figures awarded prizes to celebrate their famous (and less-well-known) achievements. Roll up, roll up! The People Awards are about to begin. Who will win the X-ray Award? Who will be named Most Magical Muggle? Who will win the prize for Shaking Up Art? Celebrate with 50 famous people from around the world who made history and changed the world for the better in this beautiful book of biographies with stunning art from award-winning artist Ana Albero.

Featuring: Albert Einstein - Wangari Maathai - Abraham Lincoln - Valentina Tereshkova - Leonardo da Vinci - Marie Curie - Mahatma Gandi - Trischa Zorn - Pablo Picasso - J. K. Rowling - Vincent Lingiari - Tim Berners-Lee - Ellen de Generes - Nelson Mandela - Mary Anning - Alfred Nobel - Frida Kahlo - Louis Pasteur - Gabriel Garcia Marquez - Olaudah Equiano - David Bowie - Anne Frank - Confucius - Cleopatra - Pele - Beethoven - Maria Montessori - Tegla Louroupe - Malala Yousefsai - Isaac Newton - Erno Rubik - Sejong the Great - Jan Amos Komensky - Katherine Johnson - Roald Amundsen - Hanae Mori - Eva Peron - Joan of Arc - Sir Donald Bradman - Queen Anna Nzinga - Rosa Parks - Muhammed Ali - Antonia Rodrigues - Simon Bolivar - Rigoberto Munchu - Antoni Gaudi -Wolfgang Amadeus Mozart - Hans Christian Andersen - Sappho
Reviews
Jenny
The People Awards is a visually stunning collection of the biographies of 50 important and influential figures in history and modern times, ranging from Mozart and Hans Christian Andersen to Nelson Mandela and Malala Yousefsai. Ana Albero's illustrations are modern and stylish and extremely appealing for the age range the book is aimed at. Our primary school pupils liked the handy illustrated timelines for each figure too. The book appeals through its light-hearted list of awards such as JK Rowling's award for Most Magical Muggle , which was the pupils' clear favourite. The clear layout of the book makes it a popular book to browse through and it has a huge range of inspirational figures to learn key (and cool) facts about. It is a valuable book to have in a school library with its eye-catching style. It contains easily understood information and it is also a great template to use to encourage and support children with ways to present their own non fiction research. 80 pages / Ages 8+ / Reviewed by Jenny Caddick, school librarian.
Suggested Reading Age 7+
Miss
Roll out the red carpet and get set to explore the amazing achievements of people who have pursued their passions, pushed boundaries and changed the world. Find out who's won The Brilliant Idea Awards, The Trailblazer Awards, The Creative Awards and many others, including my personal favourite, The One Voice Award. Celebrating the achievements of 50 inspirational people from the world of science, sport, music and literature, trailblazers and activists, The People Awards is a wonderful collection of biographies covering a diverse and eclectic mix of the best humanity has to offer. This is a fabulous non-fiction browser packed with short biographies, amazing facts and stunning illustrations in a layout that is eye catching, engaging and easy to follow. It is bound to spark curiosity and further research. I especially loved The Lap Of Honour at the end of the book, showing each recipient's place in history. Whether you're exploring fossils, World War II, explorers, famous artists or Ancient Egypt this is a must for classrooms. It's great to dip into for information on specific people, whether to spark interest as a starting point to explore a notable person from a topic, or as a fun non-fiction text for reading lessons. 80 Pages / Ages 8+ / Reviewed by Miss Cleveland, teacher.
Suggested Reading Age 7+
Other titles