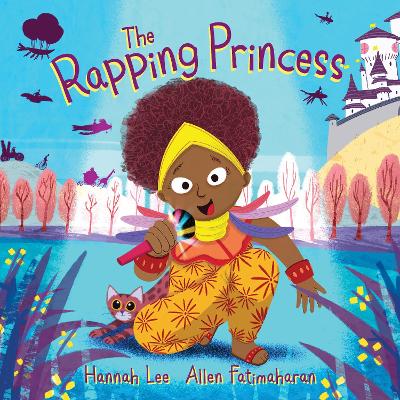 By Author / Illustrator
Hannah Lee, Allen Fatimaharan
Genre
Picture Books
Age range(s)
5+
Publisher
Faber & Faber
ISBN
9780571361151
Format
Paperback / softback
Published
05-08-2021
Synopsis
The Rapping Princess is a story that everyone should know. It's the tale of a princess named Shiloh. She lived in a kingdom, not far from yours, in a grand house with a swimming pool and fourteen floors. I know that sounds too big but here's the thing: her mother and father were the Queen and King. Being a princess is a tough job for someone so small. It's even harder when you have a problem you can't solve at all. You see, every princess in the kingdom could sing. Yet Shiloh's voice could do no such thing . . .Shiloh might not be able to sing like her sisters, but she has other talents, and sometimes it's about embracing your differences and celebrating them!
Reviews
Lizi
The Rapping Princess is a modern fairytale about finding your voice and appreciating your own individual talents.
Shiloh is a princess in a musical family where all of the girls can sing, but even though she tries everything, she just can't do it! Until one day, Shiloh hears the princes rapping and realises she does have a talent, and after encouragement from her parents to use her own voice, she realises that being true to herself makes her happy.
This is a great book that has diverse characters, engaging illustrations and a snappy rhyme scheme. It's quite wordy so would be better for older children who'll engage more with this picture book. It'd be useful in the classroom, not only for ensuring that a range of cultures and communities are shown in texts used, but also for the importance of being proud of your own individual talents.
Picture book / Reviewed by Lizi Backhouse, teacher
Suggested Reading Age 7+
Amanda
Have you ever felt like you cannot do something that everyone else can do? This is exactly how Princess Shiloh feels. The one thing that she wants to be able to do more than anything else is to sing. This wonderful rhyming story follows Shiloh's journey in self discovery. Different can be special too and, as the title Rapping Princess suggests, she finds that she excels in rapping. Beautifully illustrated, simply told this story is sure to be a hit with adults and children alike.
Picture book / Reviewed by Amanda Shipton, teacher
Suggested Reading Age 3+
Other titles