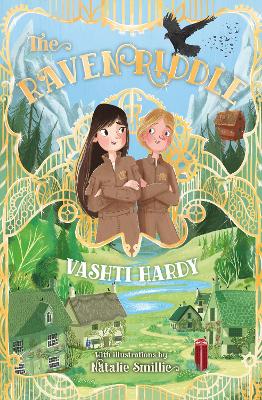 By Author / Illustrator
Vashti Hardy, illus Natalie Smillie
Genre
Science Fiction
Age range(s)
9+
Publisher
Barrington Stoke Ltd
ISBN
9781800900486
Format
Paperback / softback
Published
03-03-2022
Synopsis
Grace's family are wardens of the Griffin map, using its teleport technology to fight crime across Moreland. And now there's someone new on the team: Tom Eely, who has been training hard to become a warden.  Grace and Tom reckon they're ready to tackle a mission together, but they're disappointed when Mum sends them to a quiet mountain village where ravens have been pestering the locals. Surely they won't be any opportunities to use their exciting gadgets or combat skills there?  But as the pair investigate, the situation becomes more puzzling. Why does it seem like the ravens are protecting something? And are the villagers' tales of a mountain witch really to be believed? Grace and Tom will have to use all their wit, skill and courage if they want to solve the raven riddle...   Bestseller Vashti Hardy returns with another heartfelt and action-filled addition to the Griffin Gate series.
Reviews
Beverley
The Raven Riddle follows Grace Griffin, her mother, and brother Bren are wardens of the Griffin map. They can teleport across the whole of Moreland to be where people need help or a mystery needs to be solved. They have been joined by Tom Eely, who Grace met on a previous mission. Tom is highly skilled at inventing gadgets and has been welcomed into the Griffin family to train as a new warden. Grace and Tom are sent to Brook Hollow, where the residents are experiencing problems with a flock of very aggressive ravens.
There they learn of the legend of the 'mountain witch' who lives in a moving house and can turn into a raven and control the whole flock. Grace and Tom begin to investigate and discover a house full of curious machinery owned by an old lady called Nellie Grey. When a tremendous storm and flood threatens Brook Hollow, Grace and Tom, helped by their mechanical raven Watson, must use all their skills and bravery to prevent a disaster and solve the riddle of the ravens.
This is the third book in the Grace Griffin series, and it does not disappoint.  Ms Hardy has delivered a beautifully written novel with an exciting plot which holds the reader's attention from start to finish. Grace is a delight, brave and feisty but very kind and caring. She understands that Tom is unsure of himself as a warden and is helpful and encouraging towards him. His confidence grows throughout the book, and he ultimately becomes a hero, rescuing Grace from danger when she needs him most. Both children also show great empathy towards the lonely Nellie and try to make sure she keeps in touch with them once the adventure is over.
Published by Barrington Stoke, this short novel is aimed at dyslexic and reluctant readers, but I am sure that, with writing of this quality, the book will appeal to anyone who enjoys a good adventure story. Ms Hardy is a skilled writer, creating characters the reader really cares about. Grace and Tom's friendship shines from the page and it is clear that they are going to become a truly formidable team in future books. Natalie Smillie's atmospheric illustrations are a perfect addition to the novel, helping to bring Ms Hardy's words to life.
I can highly recommend this book, it will be a big favourite in classrooms and libraries and I am already looking forward to the next instalment in the adventures of Grace and Tom! 
112 Pages / Reviewed by Beverley, school librarian
Suggested Reading Age 9+
Other titles